Both Departments deal with fire at Gilster-Mary Lee plant in McBride
BY JIM BEERS, Contributing Writer
CHESTER – At 11:40 A.M. Tuesday March 28 the Chester Fire Department received a request from the Perryville City Fire Department for mutual aid dealing with a fire reported at the Gilster-Mary Lee plant in McBride, Missouri.

The page came to the Chester Fire Department noting that the person reporting the fire said that there were "flames coming out of the roof".
Chester Police provided a clear passage across the Chester Bridge as it was discovered that one lane on the Missouri side of the bridge was closed while crews were repairing some major pot holes.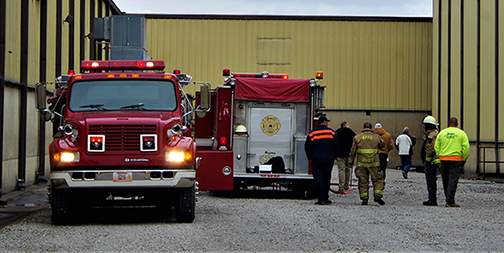 Upon arrival at the Gilster plant fire crews were directed to an area approximately halfway down the side of the buildings facing the railroad tracks. As it turned out, smoke and fire had been shooting out of an exhaust pipe near the roof of the building.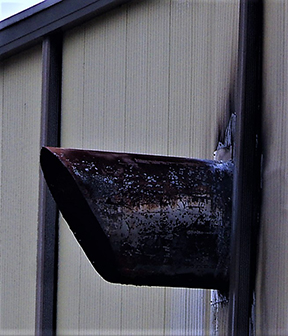 Gilster-Mary Lee President-CEO, Tom Welge said, "The fire was in an exhaust vent (in photo above) on a cereal line. The Plant Team, Perryville and Chester Fire Departments did a great job. There were no injuries.  One cereal line will be down for approximately 24 hours."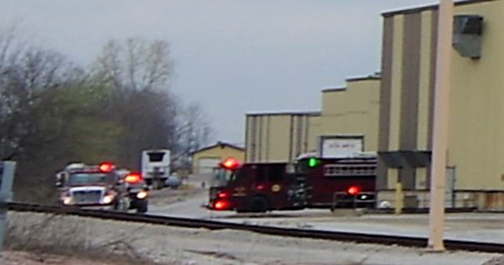 Chester Fire Chief, Mart Bert, said, "The plant sprinkler system and employees did a good job of extinguishing most of the pipe that caught on fire. The rather large, thick pipe that was suspended from the ceiling really never posed a major fire risk because there is nothing up that high to catch on fire."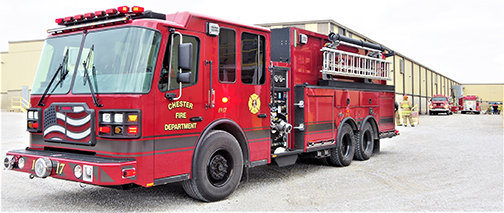 "Plant personnel clean the pipe regularly, but it is impossible to ever get absolutely all of the dust and debris that can collect in such a long, large pipe. Apparently some of the debris did catch on fire due to the fact that the exhaust pipe is connected with one of the stoves or ovens on the cereal line."

"Upon arrival, six of our CFD firefighters went inside the building with breathing apparatus to monitor the inside of the building. The City of Perryville firefighters monitored the outside of the building where the hot pipe exited the building from about 4-5 feet from the roof line."
Bert said, "The plant sprinkler system did a great job of extinguishing most of the pipe where the fire had originated, however, there was a small section that was still burning, so Perryville shot water approximately 15 feet into the pipe to extinguish what fire was remaining and to cool the entire pipe."
The Chester Fire Department was on scene for approximately 1 ½ half hours, then returned to service in Chester. No major damage was experienced at the scene.