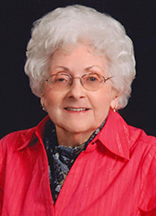 Leona E. Richardet, 95, of Perryville, Missouri passed away Friday, March 17, 2023 at the Holiday Residential Care Assisted Living in Perryville.
She was born August 14, 1927 in Campbell, MO to Herman and Elona (Moore) Schumer Sr.
Leona and Elmer Simeon Richardet were married September 28, 1946 at the Assumption Catholic Church in Perryville, MO. They were blessed with 58 years of marriage, he preceded her on July 13, 2005.
She was a member of St. Vincent de Paul Catholic Church in Perryville & Ladies Sodality.
She was Seamstress & did upholstery work.
She was a playground supervisor at St. Vincent Grade School for many years. She volunteered at the Perry County Memorial Hospital Auxiliary. Most important of all Leona was a great homemaker, who made awesome dumplings, incredible grape jelly and bread pudding. She was also an avid lover of St. Louis Cardinals Baseball and butterflies. She was also a woman of strong faith.
Survivors include four daughters, Carol Dobbelare of Perryville, MO, Karen (Melvin Jr. 'Jake') Leible of Perryville, MO, Marilyn (Jerry) Bohnert of Perryville, MO, Gayle (Stephen) Schiller of St. Louis, MO; sister, Evelyn Sauer of Jackson, MO; four half-brothers, Dennis (Cathy) Schumer, Eddie (Linda) Schumer, Lawrence (Connie) Schumer, Leonard Schumer, all of Perryville MO; nine grandchildren, Shane (Judy) Dobbelare, Scott (special friend Jen Hausman) Dobbelare, Shannon (special friend Denise Audicci) Dobbelare, Stephen (Dana) Dobbelare, Thomas Leible, Angie (Chuck) Marler, Thomas (Kristen) Canter, Emmy Brown, Chelsey (Tyler) Clifton; twenty three great-grandchildren; six great-great-grandchildren.
She was also preceded in death by her parents; son-in-law, Gary Dobbelare; three brothers; five sisters; two great-grandsons, Alexander Dobbelare, Andrew Remillard.
Visitation will be from 4:00 pm to 8:00 pm on Monday, March 20, 2023 and 8:00 am to 9:30 am on Tuesday, March 21, 2023 at Ford & Young Funeral Home in Perryville. With the Rosary recited at 8:30 am.
Funeral Mass will be at 10:00am on Tuesday, March 21, 2023 at St. Vincent de Paul Catholic Church with Fr. Ben Melaku C.M. & Deacon Walter Biri concelebrating.
Burial will be at Mt. Hope Cemetery in Perryville.
Memorial contributions may be given to American Heart Association or American Cancer Society.
Online condolences may be made at www.fordandyoungfuneralhome.com.
Ford & Young Funeral Home is in charge of arrangements.