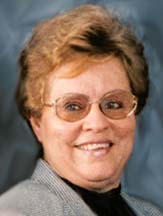 Jeanette M. Baumann 81 years old
Of Sainte Genevieve, MO
Died Thursday, March 16, 2023
At Ste. Genevieve Care Center in Ste. Genevieve, MO
She was born June 4, 1941 in Weingarten, MO
Married to William Baumann on October 21, 1961 for 60 years.
Survived By:
Husband, William L. Baumann of Sainte Genevieve, MO; Two Sons, William "Bill" L. (Mary) Baumann Jr. of Oklahoma City, OK, Gary F. (Susan) Baumann of Indian Mound, TN; Two Daughters, Geri A. (Dave) Rice of Eureka, MO, Marcy C. (Drew) Gonz of Sainte Genevieve, MO; Sister, Dottye Bauman of Farmington, MO; Two Brothers, Charles Wolk of Fort Leavenworth, KS, John L. Wolk of Sainte Genevieve, MO; Grandchildren, William "Willie" (Alesha) Baumann III, Kimberley (Aaron) Puiszis, Khristian Baumann, Gary (Emily) Baumann II, Nick (Casey) Baumann, Marissa (Ty) Williams, Levi (Special Friend Kaitlyn) Gonz, Brian Whitten, and Alyssa Wiseman; Great-Grandchildren, Brahm and Bridger Baumann, Connor and Michael Gilliam, Benjamin and Adeline Puiszis, Alexis Baumann, and Emersyn Hickman.
Preceded in Death By:
Father, August P. Wolk; Mother, Arlene M. Wolk; Brother, Gerald Wolk; Sister, Elaine Combs.
Visitation will be at Basler Funeral Home in Sainte Genevieve, MO on Sunday, March 19, 2023 from 4:00 pm till 8:00 pm and Monday, March 20, 2023 from 8:00 am till 9:30 am.
Service will be at Sts. Philip and James Church on Monday, March 20, 2023 at 10:00 am.
The Clergy will be Rev. Edward Nemeth.
Burial will be at Sts. Philip and James Cemetery in River Aux Vases, MO
Memorials can be made to St. Jude Children's Research Center.
Jeanette was a loving wife and mother. She was a wonderful homemaker and created a great life for her husband and children. Jeanette worked at Riverview Manor for 21 years, served on the Ste Genevieve RII School Board, and was a talented seamstress that made her own clothes. She was a supporter of strong political beliefs. Jeanette loved going out to eat and cooking. She could even cook breakfast in her sleep. She was very artistic and enjoyed refinishing furniture and going on Sunday afternoon rides. She was happiest seeing her children and grandchildren succeed. She loved family gatherings and a big party. In her latest years, she enjoyed caring for her cat, Kitty that brought her much joy.
Online condolences can be left at www.baslerfuneralhome.com.