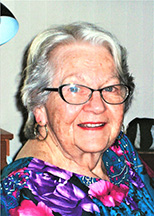 Norma Lee Brigman-Collins, 93, of Perryville, Missouri passed away Tuesday, March 14, 2023 at her residence.
She was born January 18, 1930 in St. Mary, MO to Russell A. and Mary Evelyn (Hagan) Stokely.
She first married Donald Lee Brigman in Los Angeles, CA who preceded her in death. She then married Herb E. Collins in Las Vegas, NV and he preceded her in death.
Norma Lee retired from Mercantile Bank were she worked as a Secretary. She was a member of Minnith Baptist Church and former member of Tower Grove Baptist Church in St. Louis. She enjoyed fishing, painting, sewing, crafts and "being in charge.
Survivors include three daughters, Donna Lee Taylor of Perryville, MO, Debra Lee Sutterer & (the late Roger Sutterer) of Kansas, Diana Lee Hudson of Perryville, MO; brother-in-law, Harold Corse of Crosstown; two sisters-in-law, Carol Stokely of Perryville, MO and Sharon Wolk of Perryville; nine grandchildren, Terry (Lisa) and Shane (Amy) Kramer, Donald (Sarah) LaRose, Shawn Sutterer, Misty (Justin) Parmely, Jami (Jimmy) Smith, Katie and Roxie (Billy) Hudson, Maggie Edwards, twenty-three great grandchildren, one great-great grandchildren.
She was also preceded in death by her parents, both husbands, two sons, Allan Lee and Donald Lee Brigman; two brothers, Russell Stokely and Billy Ray Stokely; five sisters, Maralean Cooksey, Lena Posey, June Wages, Joan Stokely and Laura Jean Corse.
Visitation will be from 4:00 pm to 8:00 pm on Thursday, March 16, 2023 and from 8:00 am – 11:00 am on Friday, March 17, 2023 at Ford & Young Funeral Home in Perryville.
Funeral Service will be at 11:00 am Friday, March 17, 2023 at Ford & Young Funeral Home in Perryville with Larry Hudson officiating.
Burial will be at Oak Grove Cemetery in St. Louis.
Memorial contributions may be given to a charity of your choice.
Online condolences may be made at www.fordandyoungfuneralhome.com.
Ford & Young Funeral Home is in charge of arrangements.