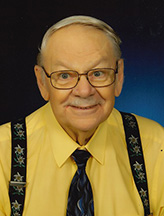 Raymond "Ray" O. Bohnert, 82, of Perryville, Missouri joined the heavenly choir on Tuesday, March 7, 2023 at Independence Care Center in Perryville, MO surrounded by his loving family.

He was born August 16, 1940 in Longtown, MO to Otto G. and Edna (Tanz) Bohnert. They both preceded him in death.

He and Ruby Mariann Dreyer were married May 19, 1962 at Concordia Lutheran in Frohna, MO. She survives in Perryville.

He served six years in the Army National Guard.

He was an aircraft mechanic and a master inspector at SabreLiner Corporation. But his true passion was playing music. Ray was the oldest living charter member of the Country Music Association. He was also active in the Jubilee and Mens' Choirs at Immanuel Lutheran Church, also led bible studies and served as elder and usher. He played with the Country Boys Band and the Tumbleweed Band and volunteered his music services playing at various venues. He was a member of the American Legion Post #133.

Survivors include his wife; son, James Ray (Tamera) Bohnert of Jackson, MO; two daughters, Joan (Dale) Bohnert of Frohna, MO, Julie (Wade) Hoffman of Shawneetown, MO; three granddaughters, Alisha (Aaron) Schimm, Megan Roth, Larissa Hoffman; seven grandsons, Zachary (Nikki) Bohnert, Gabriel Bohnert, Ian Bohnert, Greg (Valerie) Bohnert, Kyle (Daphne) Bohnert, Tyler Bohnert, Lance (Morgan) Hoffman; ten great-grandchildren, Malachi & Isaac Schimm, Harper Bohnert, Ethan Bohnert, Clayton, Raelyn, & Hadlee Copeland, Laine & Owen Bohnert, and Baby Hoffman on the way; sister-in-law, Shirley Bohnert.

He was preceded in death by his parents and brother, Lloyd Bohnert.

Visitation will be 4:00 pm to 8:00 pm on Friday, March 10, 2023 at Ford & Young Funeral Home in Perryville. Visitation will continue 8:00 am to 10:00 am on Saturday, March 11, 2023 at Immanuel Lutheran Church in Perryville.

Funeral Service will be at 10:00 am Saturday, March 11, 2023 at Immanuel Lutheran Church in Perryville with the Rev. Matthew Marks officiating.

Burial will be at Immanuel Lutheran Cemetery in Perryville.

Memorial contributions may be given to the Immanuel Lutheran Mens Choir, Crown Hospice, or a memorial of your choice.

Online condolences may be made at www.fordandyoungfuneralhome.com.

Ford & Young Funeral Home is in charge of arrangements.