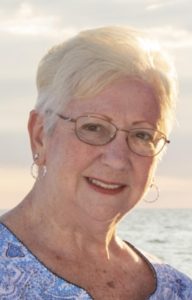 A celebration of life will be held at a future date for 75-year-old Rita Mae Michal of Sainte Genevieve, who passed away Thursday, March 2, 2023 at the Ste. Genevieve Care Center in Ste. Genevieve, Mo.
She was born April 3, 1947 in Chippewa Falls, Wisconsin.
She had been married to Raymond Michal for 57 years.
Survived by her husband: Raymond Michal of Sainte Genevieve; two daughters: Holly (David) Merz of Saint Louis and Sarah (Robert) Hodo of Kirkwood, Mo.; a son: Dean (Mary) Michal of Gurnee, Ill.; two brothers: Richard West and Roger (Gail) West; a sister: Rose Ann (Phillip Yeadon) West; grandchildren: Brendan (Logan) Merz, Tanner (Sara) Merz, and Logan Merz, Riley (Collin Shaffer) Michal, Grace (Jackson McClure) Michal, Collin Hodo and Nathan Hodo; a beloved sister-in-law, aunt, great-aunt, cousin and friend.
Preceded in death by her mother: Clara Blanche (Pake) West; her father: Carl Nelson West; mother-in-law: Lois (Miller) Michal; father-in-law: Raymond Michal.
There will be a celebration of life held at a future date.
Memorials may be made to Hope Lodge St.Louis 4207 Lindell Blvd. MO 63108 and American Cancer Society.
She was an originating member of the St. Louis Local Organizing Committee for the Division 1 NCAA Wrestling Tournament and a member of the Ste Genevieve Women's Club. Rita was a Wisconsin State Baton Twirling Medal Champion.
She loved gardening, hummingbirds, and floating on the Current River.
Online condolences can be left at www.baslerfuneralhome.com.