CHS losses 55-42; Howie and Diskey make All Tournament Team
BY JIM BEERS Contributing Writer
CHESTER–A 4-game week at the 32nd Annual Sparta Girls Basketball Tournament came to an end Saturday November 19 at "high noon" for the Chester High School Lady Jackets.
The girls from "Popeye Town" won their first game of the round robin tournament Monday November 13 against New Athens, 58-30, and lost their second game Wednesday November 16 against Sparta, the eventual winners of the tournament, by a score of 63-55.
Friday November 18 the Jackets overcame the Steeleville Lady Warriors, 51-20, in their third game of the event to improve to 2-1 in the tournament and for the season. Saturday November 19 Chester faced the Red Bud Lady Musketeers to battle for 2nd Place.
The Musketeers led 13-7 after the first quarter.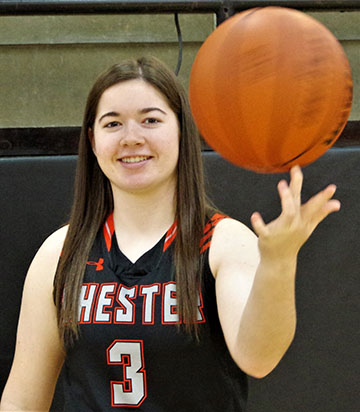 Camrynn Howie
Chester roared back in the second quarter and outscored Red Bud, 18-15, to pull within three points at halftime, 28-25. Lexi Mott led that run with seven points. Camrynn Howie and Jazzi Merideth each added four points apiece, and Camrynn Wolff hit a basket and a free throw to round out the 18-point outing.
After halftime both teams hit a wall with Red Bud slightly outscoring the Jackets, 7-5, in the third quarter. The Musketeers led by five points after three quarters of competition, 35-30. The game was still a toss-up going into the final period.
Down the stretch, the Lady Musketeers outscored the Lady Jackets, 20-12, to secure the victory with a 13-point advantage, 55-42. Coming into the game both teams had identical records of 2-1 and were fighting for the runner-up spot in the standings. The win gave Red Bud the edge with a 3-1 record while the Lady Jackets settled for a 2-2 finish.
Coach Clint Cowan said, "Today we didn't shoot or rebound very well. We have, however, taken some big steps this week! There are a lot of times we have had two or three freshmen on the floor at the same time. The upper classmen have done a good job of keeping things together."
"It is going to take time, but I see this team improving, getting stronger, and bonding more and more each game. That is what we want!"
"We know we have the talent. We know we have great leadership. It is just putting all of those things together and working as one unit that is what we are trying to achieve. It may take some time, but we are very close to becoming that team that no team wants to play!"
In the game, Lexi Mott led the Jackets in scoring with 11 points. She also grabbed 10 rebounds, had 2 steals and 4 turnovers. She was 5-of-11 from the field (45%). Lexi was 1-of-1 from the free throw line (100%).
Jazzi Merideth scored 9 points, grabbed 4 rebounds, dished out 2 assists, and committed two turnovers. She was 3-of-7 from the free throw line (43%) and was 3-of-11 from the field (27%).
Senior Camrynn Howie and freshman Jessica Stumpe each scored 8 points apiece. Howie grabbed 3 rebounds, dished 6 assists, and recorded 5 turnovers. She was perfect from the free throw line (4-4, 100%) and 2-of-16 from the field (13%). Stumpe grabbed 9 rebounds, had two steals and 2 turnovers. She was 0-for-5 from the free throw line and 4-of-10 from the field (40%).
Finally, Emma Diskey and Camryn Wolff each added 3 points apiece. Diskey grabbed 1 rebound and had 1 steal. She made 1-of-2 free throws (50%) and was 1-of-4 from the field (25%). Wolff grabbed 9 rebounds, dished 1 assist, had 1 steal, and made 1-of-2 free throws (50%). She was 1-of-5 from the field (20%).
As a team, the Jackets scored 42 points, grabbed 39 rebounds, dished out 9 assists, had 6 steals, committed 21 turnovers, were 0-of-9 from the 3-point arc, 10-of-21 from the free throw line (48%), 16-of-51 from 2-point range (31%), and made 16-of-60 shots from the field (27%).
Red Bud was led by Lyle Hess who had 28 points. She was followed by Ave Wagner (, Olivia Geralds (7), Tori Muench (7), and Morgan Meek (5). The Lady Musketeers made 6 three-pointers, 12 two-pointers and were 13-of-17 from the free throw line (76.4%).
Sparta defeated Steeleville in Game 10 at 1:30 p.m. to end the tournament. The win gave Sparta a perfect 4-0 record for tournament, giving them the 2022 Championship title. Red Bud finished 2nd with a record of 3-1. Chester finished 3rd with a 2-2 record. New Athens placed 4th at 1-3, and Steeleville finished 5th with no wins, 0-4.
Chester's Camrynn Howie and Emma Diskey earned All-Tournament Team honors. For the week in four games, Howie scored 57 points, grabbed 17 rebounds, dished out 17 assists, had 10 steals, blocked 4 shots and committed 14 turnovers. Diskey scored 31 points, grabbed 15 rebounds, had 2 steals, and committed 3 turnovers.
The Jackets will have the week of November 21-27 off with no games. They will practice and prepare for a rough Week 3 with four games in five days. They return to action Monday November 28 December 1 will be the home opener when the Lady Jackets host Carlyle, and Friday December 2 they will hit the road once again to Cobden.