SEDALIA – The Missouri State Fair Governor's Ham Breakfast is a traditional gathering that brings together Missouri elected officials, leaders in agriculture and supporters of the Missouri State Fair from across the state and is the kick-off to Governor's, Legislators' and Judges' Day at the Fair. The Breakfast begins at 8 a.m. on Thursday, Aug. 18, in the NUCOR Director's Pavilion.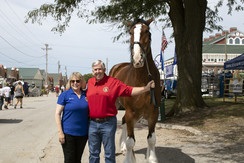 Tickets to the Breakfast are $50 and include admission to the Fair for the day. It is recommended to purchase tickets in advance to ensure availability. Tickets may be purchased online or at the State Fair Box Office. While supplies last, tickets may also be purchased at the Breakfast on Aug. 18, with payments of cash, check or credit card accepted.
Fairgoers can join in on the fun happening all across the grounds on Governor's, Legislators' and Judges' Day, sponsored by Buckle Up Phone Down.
Some highlights of the day include:
Missouri First Lady's Pie Contest, sponsored by Starline Brass and Missouri Grown, beginning at 10 a.m. in the Home Economics Building.
Free Entertainment across the Fairgrounds including: Randy Kalin, Magician and The Circus Science Spectacular on the Kids Stage, sponsored by your Local McDonalds; The Groovy Guy Show and Motown & More at the Touchstone Energy Stage; Richard Egan, Ragtime Musician and The Farnum Family on the Ditzfeld Stage; BMX Pros Trick Team, sponsored by AOK RVs, and the Paul Bunyan Lumberjack Show.
Missouri Homegrown Singer Semi-Finals, sponsored by Bimbo Bakeries USA, at 4 p.m. on the Budweiser Stage.
Garden Tractor Mini Rod & Truck Pull at 10 a.m. and 6 p.m. in the State Fair Arena: free admission (no ticket required).
Livestock shows including Miniature Hereford, Dairy Steers, Commercial Dairy Cattle, the No Limits P.I.G. Show, 4-H/FFA Swine Showmanship and the 4-H/FFA Youth Breeding Rabbit Show.
Military Flag Retreat Ceremony at 5:30 p.m. at the Historic Administration Building, sponsored by Capital Materials, Starline Brass, and Retrieving Freedom, Inc.
Charley Crockett and Stoney LaRue at 7:30 p.m. in the State Fair Grandstand, presented by CFM Insurance; tickets available for purchase online and at the Missouri State Fair Box Office, while supplies last.
Fairgoers can join in Sedalia on Aug. 18 for "Buckets of Fun" at the 2022 Missouri State Fair.