JEFFERSON CITY — The number of new COVID-19 cases has fallen slightly in Missouri.
The CDC reports the number of new confirmed and probable cases in Missouri for the past seven days was 12,749, down 432 or 3.3 percent from the previous week's 13,181.
There were 12 new COVID-19 cases last week in Ste. Genevieve County. That's down nine from the previous week which is a drop of 43 percent.
There were 47 new cases in Perry County. That's 11 more than the previous week: a 30 percent increase.
St. Francois County had 186 new COVID-19 cases in the past seven days.
Cape Girardeau had 239 new cases. Bollinger County had 19. Jefferson County had 459.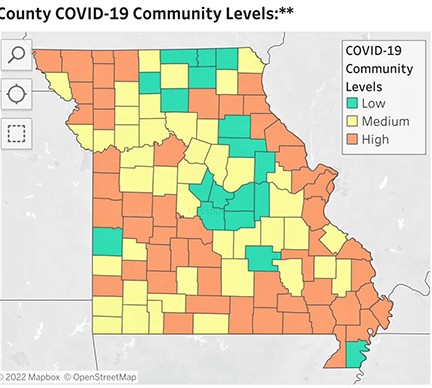 Perry, Jefferson, St. Francois and Cape Girardeau Counties are in the high community level.
Ste. Genevieve is at the medium level.