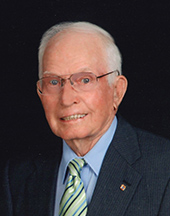 Joseph A. Moll, 93, of Perryville, Missouri passed away Tuesday, July 26, 2022 at Landmark Hospital in Cape Girardeau, MO.
He was born October 20, 1928 in Perry County, MO to Albert and Ida (Ernst) Moll.
He and Celestine (Winschel) Moll were married October 24, 1953 in St. Joseph Catholic Church in Apple Creek.
Joseph served in the United States Army during the Korean War.
Joseph was a Dairy Farmer. He was a member of St. Maurus Catholic Church in Biehle, Knights of Columbus #1263, American Legion Post #133,  and VFW Post 4282.
Joseph enjoyed fishing, He loved his farm and he was proud of his dairy cattle, beef cattle, chickens and crops..
Survivors include two sons, Dominic (Deb) Moll, Joseph (Danielle Braden-Moll) Moll; four daughters, Yvonne (Drew) Moll-Matthews, Lisa (Danny) Valleroy, Wendy (Ron) Dudley, Alexia (Shannon Fornkohl) Moll, two brothers, Allie (Millie) Moll and Thomas Moll, fourteen grandchildren and two great grandchildren.
He was preceded in death by his parents, three brothers, Norbert, Adrian and Gerald Moll, two sisters, Doretta Safriet, Eugenia Steffens and grandson, Harrison Matthews.
Visitation will be from 4:00 pm to 8:00 pm on Friday, July 29, 2022 and on Saturday from 8:00 am – 9:20 am at Ford & Young Funeral Home in Perryville.
Funeral Mass will be at 10:00 am Saturday, July 30, 2022 at St. Maurus Catholic Cemetery in Biehle with Rev. Patrick Christopher officiating.
Burial will be at St. Maurus Catholic Cemetery in Biehle with Military graveside honors provided by American Legion Post 133 and Delta Team..
Memorial contributions may be given to St. Maurus Catholic Church in Biehle or Charity of your Choice.
Online condolences may be made at www.fordandyoungfuneralhome.com.
Ford & Young Funeral Home is in charge of arrangements.