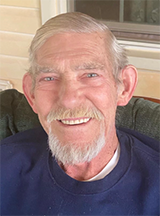 Freddie Joe Floyd, 77, of Farmington, Missouri, formerly of Perryville peacefully passed away on Sunday, July 24, 2022 at his residence surrounded by his loving family.

He was born March 14, 1945 in Paragould, AR to Loren Thomas and Clara (Bierbaum) Floyd.

Freddie and Barbara Grenzebach were married on October 1, 1988 at Grace Chapel Lutheran Church in St. Louis, MO.

He was a Vietnam Veteran of the United States.Army.

He was a member of Immanuel Lutheran Church in Perryville. Freddie was a forklift operator for 21 years with Bristol-Meyers Pharmaceutical Co. in St. Louis.

Freddie loved working in his flower garden. In his quiet time, he enjoyed watching and listening to the many birds of which he fed and built homes.

He is survived by his daughter, Landra Talbot of Farmington; son, Daniel (Jennifer) Boone of Farmington; two brothers and one sister, George Floyd of Malden, MO, Carolyn Woolard of Dexter, MO, Bobby (Vonda) Floyd of O'Fallon, MO; four grandchildren, Kelsey Talbot, Shayne (Allison) Talbot, Justin Cazares, and Sadie Cazares.

He was preceded in death by his parents; two brothers, Paul Floyd, Jim Floyd; one sister Margaret "Marty" Pittner.

Visitation will be from 9:00 am – 10:00 am on Tuesday, July 26, 2022 at Immanuel Lutheran Church in Perryville.

Funeral Service will be at 10:00am Tuesday, July 26, 2022 at Immanuel Lutheran Church in Perryville with Rev. Joseph Schlie officiating.

Burial will be at Whitewater Christian Cemetery in Perry County with Military Honors provided by the American Legion Post #133 and the Delta Team.

Memorial contributions may be given to the World Bird Sanctuary.

Online condolences may be made at www.fordandyoungfuneralhome.com.