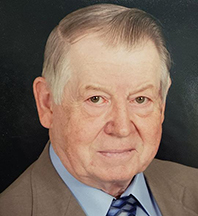 A funeral will be held Friday, May 6, 2022 for 84-year-old Gerald R. Jung of De Soto who passed away April 29, 2022, at Mercy Hospital Jefferson in Crystal City.
He was born April 10, 1938, in Engleman Township, Ill., the son of the Xavier and Frances (Huff) Jung who both preceded him in death.
He married Winona L. (Cole) Jung. She preceded him in death.
He is survived by two children: Eric (Rachel) Jung of Festus and Kevin (Stacy Linderer) Jung of Ste. Genevieve; a brother: Donald (the late Phyllis) Jung of Mascoutah, Ill.; seven grandchildren: Christopher Jung, Matthew Jung, Keri (Travis) Essmyer, Mikah (Corey) Brackett, David Eads, Alyssa (Rodney) Edmundson and David Jung; and one great-grandchild: Caroline Brackett, with two more on the way.
He was also preceded in death by a sister: Dorothy (the late Leonard) Sandheinrich; and two brothers: Johnny Jung and Daniel Jung.
Mr. Jung retired as a certified welder from Union Electric.
He was a U.S. Marine Corps veteran and a member of Operating Engineers Local 148 and the Gateway 2 Cylinder Club.
He volunteered with the Jefferson County Sheriff's Department in the victims services department and with the Amvets Post 38 Color Guard posting and presenting the American flag in parades and civic and community events.
Visitation will be 4-8 p.m. Thursday, May 5, at Dietrich-Mothershead Funeral Home, 220 N. Main St., in De Soto.
A funeral Mass for 84-year-old Gerald R. Jung of De Soto will be held at 10 a.m. Friday, May 6, at St. Rose of Lima Catholic Church, 504 S. Third St., in De Soto, officiated by Monsignor James Hansen.
Burial will be in the Calvary Cemetery in De Soto.
Memorials may be made to the Mary Daniels Foundation, 7885 Tower Road, Hillsboro, 63050.
Arrangements are under the direction of Dietrich-Mothershead Funeral Home.