Lady Jackets beat Trico, 44-38, to advance to Championship game against Red Bud
By Jim Beers
CHESTER –The Chester High School Lady Jackets Basketball Team was victorious over the Trico Lady Pioneers Wednesday night at the 2023 Sparta Lady Bulldogs Invitational Basketball Tournament.
With the 44-38 win, Chester advanced to the Championship game Friday evening at 8:00 p.m. to face the Red Bud Lady Musketeers for 1st Place in the six-team Round-Robin Tournament.
Chester and Trico both got wins in their first round games. Trico won 34-29 over Sparta and Chester won 61-42 over Sparta. In Round 2 games, Chester beat Trico, 44-38. After two games Chester has a 2-0 record while Trico is 1-1.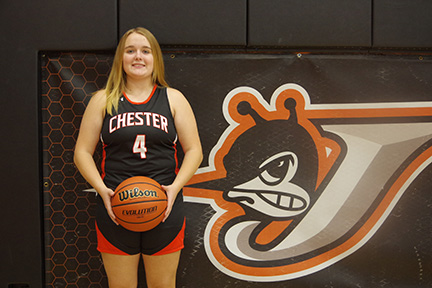 Chester Lady Jacket Rylie Conley, a junior, was Chester's second-highest scorer Wednesday November 15 in the, 44-38, win over the Trico Lady Pioneers. Conley scored 9 points. She was 2-of-7 from 2-point range (29%), 1-of-4 from 3-point range (25%), and a perfect 2-for-2 from the free throw line (100%). She also added two rebounds (1 offensive and 1 defensive), dished out 2 assists, and had 2 steals. Conley recorded just 1 turnover. Jim Beers Photo
In the win over Trico, the Lady Jackets never trailed, leading 15-5 after the first quarter and 24-11 at halftime. In the second half, Trico outscored Chester 9-8 in the third quarter, but the Lady Jackets used their 13-point halftime cushion to lead, 32-20 after three quarters of play.
In the fourth quarter, the Lady Pioneers continued to catch-up with the Jackets, outscoring Chester, 18-12. The push wasn't enough, however, as the final buzzer sounded with Chester leading, 44-38, to seal the deal and win the game.
In the win, the Jackets were led in scoring by Lexi Mott for the second game in-a-row. Mott scored 11 points. Mott was 5-for-11 from two-point range (45%), and 1-for-2 at the free throw line (50%). She also grabbed five rebounds (2 offensive and 3 defensive), dished out 1 assist, and had 4 turnovers.
Mott was the only Lady Jacket to score in double figures. Other offensive contributors included Rylie Conley (9), Jesse Stumpe (7). Aubrey Colvis (6), Emma Diskey (5), Jazzi Merideth (4), and Lillian Diskey (2).
For the night, Emma Diskey was 1-for-1 (100%) from the 3-point mark and 1-for-1 from the free throw line (100%). Emma also led the team in rebounding with 7 defensive rebounds and 4 offensive rebounds (total 11 boards). She added an assist and 2 turnovers.
Aubrey Coleman, Jesse Stumpe, Lillian Diskey, and Aubrey Colvis each recorded two steals apiece. Jazzi Merideth and Aubrey Coleman co-led the team in assists with 2 apiece. Merideth, Coleman, Lillian Diskey and Colvis each had 1 blocked shot apiece.
Trico had two players score in double figures. Taylor Cottom led all scorers with 15 points and Whitney Lovel had 12 points. Other offensive contributors include Hayleigh Franklin (5), Autumn Kennedy (4), and Greta Jones (2).
The final day of the tournament is Friday November 17 with three games taking place beginning at 5:00 p.m. The schedule is as follows:
5:00 p.m. 5th Place: Sparta (0-2) vs New Athens (0-2)
6:30 p.m. 3rd Place: Steeleville (1-1) vs Trico (1-1)
8:00 p.m. 1st Place: Chester (2-0) vs Red Bud (2-0)