Chester has four players score in double figures
By Jim Beers
CHESTER – The Chester High School Lady YellowJacket Basketball Team opened its 2023-2024 season in high fashion Thursday November 14 with a nice 61-42 win over the Sparta Lady Bulldogs.
The win was great by itself, however, the night was special in numerous other ways. First of all, the 2023-24 season opens a new era in Lady Jacket Basketball with the advent of a new coaching staff at the helm.
With the departure of former Chester coach, Clint Cowan, to Steeleville, Chester has now hired a new coaching staff including Jeff Mott, Head Coach, and Jennifer "Knowles" Coleman, Assistant Varsity Coach and Head JV Coach.
Clint Cowan's former assistants, Amber Skorcz, and Rick Powley, decided to retire with Cowan's departure.
Skorcz, a former Lady YellowJacket standout  was rather new to coaching at CHS while Powley had been associated for decades with Lady Jacket Basketball at all levels. He served as Head Coach, Assistant Coach, and most recently as Volunteer Assistant.
Another of Cowan's Volunteer Assistants last year, Jennifer "Knowles" Coleman, was a former CHS Lady Jacket Basketball standout, and Basketball Coach at St. John's Lutheran School in Chester. She has accepted the position as Mott's Assistant Varsity Coach and JV Head Coach this year. Coleman is the daughter of former CHS Head Coach, Pat Knowles.
This season also appropriately ushered in a brand new Under Armor Lady Jacket uniform and warm-up shirt to help bring-in the new era of coaching at CHS.
The win over Sparta further began the Mott-Coleman regime with a victory to set the tone for a successful season and future.
The 2023-24 Lady Jackets are young, featuring just three seniors, one junior, seven sophomores and six freshmen for a total of 17 players. With only 11 players last year and six layers the previous year, Chester's young squad has received plenty of experience at the varsity level. They were "thrown-into-the-fire" so-to-speak, upon their arrival at the high school level.
The six new freshmen also had lots of experience last year at the grade school level, so the adjustment to high school ball has been an easier transition than for previous freshmen in some years.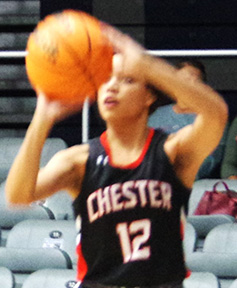 Chester Lady Jacket Jazzi Merideth (12) fires a shot in the first half of the season opener Tuesday November 14 at the Sparta Lady Bulldog Invitational Tournament. Merideth helped her team win 61-42 over Sparta to start the season 1-0 overall and in the tournament. In the win, Merideth scored three points on a field goal and a free throw. She also added a block, three assists, and two defensive rebounds. Jim Beers Photo
Chester's roster consists of seniors Jazzi Merideth, Emma Diskey, and a returning player Camryn Luthy, who has played off-and-on over the years. The lone junior is Rylie Conley who has played all three years at CHS.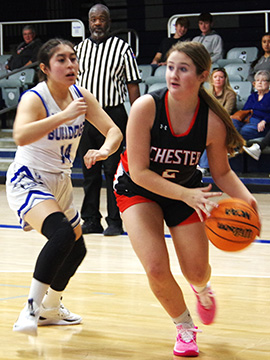 Sophomore Lady Jacket Basketball player Jessica Stumpe (2) drives the baseline looking for a teammate to pass to in the opening game of the 2023-24 season. CHS was playing Sparta in their first game of the 2023 Sparta Lady Bulldog Invitational Tournament. Chester won, 61-42 and Stumpe was Chester's second-highest scorer with 13 points. She made 5-of-8 field goals and was perfect from the free throw line with 1-1. She also added four assists, one steal, and one rebound. Jim Beers Photo
Sophomores include Jesse Stumpe, Riley Lochhead, Lillian Diskey, Natalie Gutersloh, Moran Throop, Aubrey Coleman, and Lexi Mott.
Freshmen include Lauren Cowell, Rylee Shemonic, Bailey Hartman, Aubrey Colvis, Taylor Throop, and Angelynna Carmona.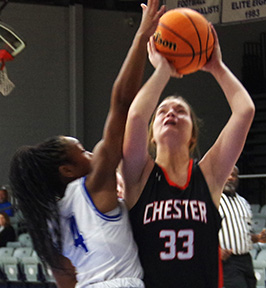 Lexi Mott (33), a CHS sophomore, goes to the hoop against the Sparta Lady Bulldogs Tuesday November 14 at the 2023 Sparta Invite. Mott led all scorers with 15 points in then61-42 win over the Lady Bulldogs. In addition, she grabbed six rebounds, recorded four steals, had one block and dished out a pair of assists. Jim Beers Photo
In the win over the Sparta Lady Bulldogs the Lady Jackets had four players score in double figures led by Lexi Mott (15), Jesse Stumpe (13), Emma Diskey (11), and freshman Aubrey Colvis (10).
Eight of the 10 players that were able to play against Sparta scored points in the true team effort. Others who contributed to the offense included Jazzi Merideth (4), Lillian Diskey (3), Rylie Conley (3), and Natalie Guetersloh (2).
Senior Camryn Luthy just returned from leg surgery and freshman Rylee Shemonic is on crutches from a basketball-related ankle injury. Both are on the disabled list until release by their physicians.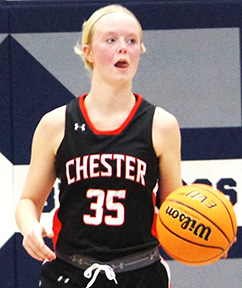 CHS Senior Emma Diskey (35) brings the ball down the court in the first half Tuesday November 14 against Sparta in Game 4 of the 2023 Sparta Invitational Tournament. Chester won, 61-42. In the win, Diskey was one of four Chester players to score in double figures with 11 points. She was 5-for-5 from the field and 1-of-3 from the free throw line. She also added one rebound, one assist and one steal. Jim Beers Photo 
Senior Emma Diskey was a perfect 5-for-5 from the field and 1-for-3 from the free throw line. She also had one assist, one rebound and one steal for the night. Lexi Mott was 7-for-10 from the field and added one free throw. She also added six rebounds, four steals, two assists and one block.
Rylie Conley and Lillian Diskey each played an unselfish game dishing out five assists apiece. Conley also grabbed four rebounds. Diskey added three rebounds and two steals. Aubrey Colvis led the team on the boards with eight rebounds.
Chester led 17-6 after one quarter, 29-17 at halftime, 46-24 after three quarters of play and 61-42 for the win. Chester never trailed in the game.
With the win the Lady YellowJackets opened the season and the Sparta Tournament with a perfect 1-0 record.
In other games, on Monday (opening night) Red Bud beat New Athens, 61-23, and Trico beat Sparta, 34-29.
On Night 2 Tuesday November 14 Steeleville beat New Athens, 48-24 and Chester beat Sparta, 61-42. 
Wednesday night November 15 Chester and Trico face off at 5:30 p.m. and Red Bud and Steeleville battle at 7:00 p.m.
Thursday is a night off. (NO GAMES)
Friday evening New Athens and Sparta will play at 5:00 p.m. for 5th Place
The losers of Wednesday night's games will play Friday evening at 6:30 p.m. for 3rd Place
The winners of Wednesday night's games will compete for the Championship Friday night at 8:00 p.m.