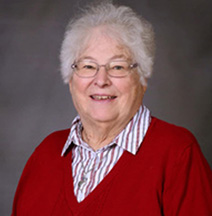 Sister Annette Embrich, 76, ASC, of the Adorers of the Blood of Christ, died peacefully at 2:30 a.m. at Benedictine Living Community at the Shrine of Our Lady of the Snows on Monday, November 13, 2023.
Sr Annette was the third of seven children in the family of Adam and Emily (nee Chagala) Embrich. She was baptized Margaret at Immaculate Conception Parish in Centreville, IL. She made her first profession on July 1, 1967 and her final vows on March 4, 1972 at the Ruma Convent, Ruma, IL and she had been professed for 56 years.
She received her bachelor's degree in Theology from St. Louis University, St. Louis, MO, in 1970, and her master's in Religious Studies from Incarnate Word University in San Antonio, TX, in 1982. She also attended Spanish classes at the University of Puerto Rico in San Juan, the Universidad Javeriana in Bogota, Columbia, the Maryknoll Language School in Cochabamba, Bolivia, and Pima County Community College in Tucson, AZ.
Sr Annette's ministry was spent as an elementary school teacher, computer teacher, language tutor, especially Spanish, and several years of community service. She taught in three states: in Illinois, at St. Augustine in Belleville; St. Joseph in Prairie du Rocher, Immaculate Conception in Centreville and Saint Peter and Paul in Waterloo. In Missouri she spent several years teaching at St. Augustine in Kelso. In Arizona, she taught at St. John the Evangelist and St. Ambrose, both in Tucson. Spanish was often one of her classroom subjects.
She also gained expertise in computers and taught students in this field at the Santa Rosa Center in Tucson. At the Literacy Office in Tucson she specialized in individualized learning for English, math, and computer science students.
Her years of community service included database entry for the ASC Sisters, as well as various office duties. Her last ministry was her service as Transportation Coordinator for the senior sisters.
In her lengthy biography, completed as recently as 2020, Sr. Annette describes herself as active and adventurous. As a child she played neighborhood sports with her brothers and the neighborhood children. She enjoyed travel and had lived in several Spanish-speaking countries. She used her knowledge of the language even after she no longer taught in the classroom; she mentored adults who wanted to learn English, some of whom were working on their United States citizenship. One of her favorite leisure activities was going horseback riding with her friend Margaret. Her artistic talents were evidenced in her macramé creations and her paintings, some of which accompanied her rich collection of poetry.
For Annette, poetry was one of her deep ways of praying. In a poem titled "Hope", she gives these definitions: "a gift given to us by Jesus . . . another chance to begin anew. . . a spiritual oasis. . . a miracle when least expected. . . the Resurrections that flow from Paschal Mysteries. .."
In another poem, "The Beach Experience", she shares clear images, based on her connection with Nature, then gives her insight of their meaning:
"A bright golden sun places itself directly overhead,
Plays peek a boo as it shines through the misty clouds
While its shadows fall and play hide and seek on the shore
And on the folds of glistening water.
I sit and contemplate this sacrament of mystery before me.
My heart can hardly contain the sacredness all around me.
Who could ever deny that there is a God"
A few months before her death, Sr. Annette wrote one of her last poems. "Talking to My Friend" shows her complete confidence in Jesus.
"I know You are here with me, at my side, walking with me on my journey. . .
I really don't know what's going to happen next, but that's okay and
I can let it go and put it in Your hands because You are here,
Holding my hand, keeping me safe. . .
When I rely on You and am conscious of Your presence,
I have nothing to fear."
Sr Annette is survived by her four brothers – Jim Embrich, Ken (Martha) Embrich, Mel Embrich, and Brother Dan Embrich, OSF; two sisters – Mary (Ronald) Kelley and Rita (Bryan) Herbert and several nieces, nephews, and members of the ASC community.
She was preceded in death by her parents.
Visitation will be Thursday at 10:15 am till time of service at the Benedictine Living Community on Thursday, November 16, 2023.
Mass of the Resurrection will follow at 11:15 a.m., with Msgr. Bill McGhee officating.
Burial will follow in the community's cemetery in Ruma, IL.
Donations in memory of Sister Annette may be sent to the ASC Retirement Fund, 4233 Sulphur Avenue, St. Louis, MO 63109 or online at www.adorers.org "Support our Ministries"