By Jim Beers
CHESTER – The 2023-2024 Chester High School Lady Jacket Basketball program is up and running.
The season started two weeks ago with first practices and tipped off last night at the Sparta Bulldog Basketball Invitational Tournament.
Chester was scheduled to play Game 4 of the tournament against host Sparta at 7 p.m. last night.
In Game 1 Monday November 13 Red Bud defeated New Athens, 64-23, and in Game 2 Trico defeated Sparta, 34-29.
Steeleville will face New Athens in Game 3 at 5:30 p.m. Tuesday while Sparta will host Chester in Game 4 at 7:00 p.m.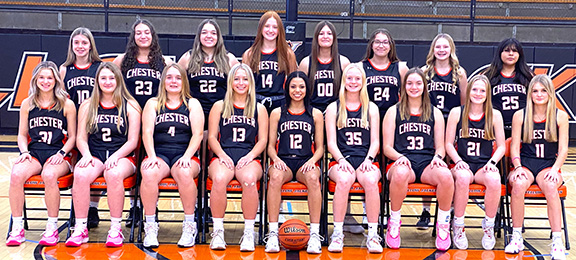 Pictured are the Lady Jackets (front row, left to right) are Aubrey Coleman (31), Jese Stumpe (2), Rylie Conley (4), Camryn Luthy (13), Jazzi Merideth (12), Emma Diskey (35), Lexi Mott (33), Lillian Diskey (21), and Riley Lochhead (11). (Row 2, left to right) are Bailey Hartman (10), Moran Throop (23), Natalie Guetersloh (22), Aubrey Colvis (14), Rylee Shemonic (00), Taylor Throop (24), Lauren Cowell (3), and Angelynna Carmona (25). The Lady Jackets are coached by Jeff Mott and Jennifer Coleman. Jim Beers Photo