CHESTER — The Chester High School Boys Varsity Basketball Team is suited up and ready to begin the 2023-2024 basketball season.
The official day of eligibility to begin practice was Monday. November 6. Wednesday November 8, CHS hosted its 2023-24 Gatorade Basketball Night when all Chester teams, both Grade School and High School, were introduced to the community.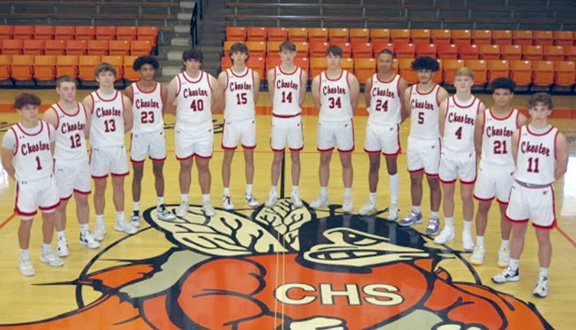 Pictured here is the CHS Varsity Squad. Left to right are Cayden Brunkhorst (1), Korbin Jany (12), Kolton Jany (13), Gabe Coffman (23), Lucas Thompson (40), Evan Dunning (15), Shea Meneffe (14), Branden Malley (34), Gabe Steele (24), Devante Palacio (5), Tray Peters (4), Tashawn Palacio (21), and Jack Heffernan (11). Jim Beers Photo
The YellowJackets are coached by Chris Toledo.
The Jackets open the season Tuesday November 21 hosting Anna-Jonesboro at CHS Colbert Gymnasium.
The next night Wednesday November 22 Chester will travel to Pinckneyville to challenge the Panthers.