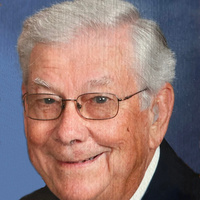 Donald E. Dufrenne, 97, of Red Bud, Illinois, passed away at 8:15 am, Saturday, October 28, 2023 at Oak Hill Senior Living and Rehabilitation Center, Waterloo, Illinois.

He was the son of Arch and Nova (nee Godier) DuFrenne on July 27, 1926 in Modoc, Illinois. 

Don married Audrey Deterding on February 27, 1954 at St. Joseph Catholic Church in Prairie du Rocher, Illinois; she survives. 

Don went to work after he was married at Ratz's Motor Company in Red Bud, Illinois for 26 years. After leaving Ratz's, Don owned and operated D & D Auto Parts in Red Bud for 18 years until his retirement. During his retirement, he went to work at Welge-Pechacek Funeral Home with his son-in-law and granddaughter until he was 90 years old.

He was a member of St. John the Baptist Catholic Church, Red Bud, Illinois. Don served as President of the first Parish Council, was a Eucharistic Minister and also worked bingo at the church. Don was a school board member for Gibault High School while his children attended school. He also served on the Red Bud City Council for many years and a past member of Red Bud Chamber of Commerce. 

He was a Korean War Army Veteran and a member of the VFW Post # 6632 in Red Bud, Illinois. 

Survivors:
   Wife:
        Audrey DuFrenne Red Bud, IL
   3 Children:
        Pamela Pechacek Chester, IL
        Sherry (Tim) Lowry Red Bud, IL
        Dean DuFrenne Red Bud, IL
   4 Grandchildren:
        Elizabeth Ohlau, Megan (Jason) Neff, Derek (Erin) Pechacek and Morgan (Tyler) Mueth
   10 Great Grandchildren:
        Annabeth, Julia & William "Liam" Ohlau
        Makenna & Clara Neff
        Jackson & Jessa Pechacek
        Davis, Gabriel & Charlie Mueth
   1 Son-in-law:
        Michael (Lynda) McReynolds Jupiter, FL
   1 Niece:
        Kim (Scott) Brothers Eden, IL
   Several Other Nieces and Nephews 
Preceded in death by: Parents, 1 Daughter – Paula DuFrenne McReynolds, 1 Son-in-law – Ronald Pechacek, 3 Brothers – Melvin DuFrenne, Robert DuFrenne and David (Joyce) DuFrenne and 1 Nephew – Jeffrey "Chopper" DuFrenne

Funeral Mass:
   11:00 am, Friday, November 3, 2023
   St. John the Baptist Catholic Church, Red Bud, Illinois
Officiating:
   Msgr. Dennis Schaefer
Interment:
   St. John the Baptist Catholic Cemetery
   Red Bud, Illinois
Visitation:
   Thursday – 4:00 pm – 8:00 pm
   Friday – 9:00 am – 10:45 am
   Pechacek Funeral Homes, Red Bud, Illinois 

Memorials:
   St. John the Baptist Catholic Church or School