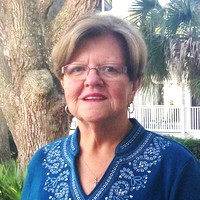 Judith "Judy" A. Weber, 79, of St. Louis, Missouri, passed away at 6:30 am, Sunday, October 15, 2023 at Randolph County Care Center, Sparta, Illinois surrounded by her family. 
She was born to the late Elmer G. and Emily M. (nee Rheinecker) Sievers on June 25, 1944 in Red Bud, Illinois. Judy attended and graduated from Precious Blood Institute, Ruma, Illinois in 1962.
Judy had worked as a human resource specialist for United States Department of Agriculture for 25 years. 
Judy was one of the first woman lectors and Eucharistic Ministers at St. John the Baptist Catholic Church. Judy, along with Kathy Fahey and Sr. Judith Korte, organized the first PSR classes at St. John the Baptist Catholic Church and had been a PSR teacher for many years.
She loved the St. Louis Cardinal's and her very dear and special friend, Julian Tavazrez, (former Cardinal's pitcher) still calls her "Mama Judy". She also loved going to spring training games and traveling to the Caribbean and Hilton Head, South Carolina. 
Judy will be remembered for her love of family and her infectious smile. A special thanks to Red Bud Regional Hospital, Garden Place in Red Bud and the Randolph County Nursing Home for all the wonderful care that Judy received in her final days. 
Judy was generous to the end and her ultimate gift was to donate her body to Washington University School of Medicine to help others especially with heart, lung and scleroderma, which she and her mother fought. 
Survivors:
    1 Son:
        Mike Weber St. Louis, MO
    3 Sisters:
        Diane (Jim) Buch Baldwin, IL
        Maxine Umbdenstock Red Bud, IL
        Linda (Gary) Schoenbeck Baldwin, IL
    2 Granddaughters:
         Dawsyn and Sarah Weber
    6 Nieces & Nephews:
         Kim (Scott) Brothers, Michelle (Joe) Minnemann, Nicholas Umbdenstock, Brian (Jamie) Schoenbeck, and Bruce (Haleigh Rock)                             Schoenbeck
    8 Great Nieces & Nephews:
        Adam Brothers, Austin (Taylor) Brothers, Skylar (Sam Hooten), Sierra Klein DuFrenne, Kiana Klein DuFrenne, Kaitlin Schoenbeck, Rhett             Schoenbeck and Reed Schoenbeck
    2 Great-Great Nephews:
        Landon and Lawson Brothers
   Mother of her grandchildren:
        Amber Fischer
   Many Cousins and Friends
Preceded in death by: Parents, Step-Father – Wilbert Kueker, 1 Sister and her husband – Joyce (Dave) DuFrenne and 1 Nephew – Jeffrey "Chopper" DuFrenne.

Memorial Mass:
    11:00 am, Saturday, October 28, 2023
    St. John the Baptist Catholic Church, Red Bud, Illinois
Officiating:
    Msgr. Dennis Schaefer and Fr. Carl Scherrer
Visitation:
   Saturday – 9:00 am – 11:00 am
   St. John the Baptist Catholic Church, Red Bud, Illinois
In lieu of flowers, please make a donations in Judy's memory to Scleroderma Foundation, Backstoppers, or Mallinckrodt Academy of Gifted Instruction in honor of her granddaughters – Dawsyn & Sarah