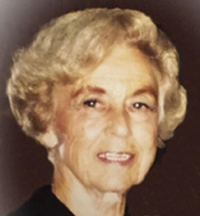 A graveside service will be held Saturday, July 8, 2023 for 99-year-old Hilda A. (nee Bockhorn) Fey,  formerly of Chester, Illinois, who departed this earthly life at 6 a.m., Sunday, April 16, 2023 at Oak Hill in Waterloo, Illinois.
She was born to the late William and Maggie (nee Koening) Bockhorn on July 11, 1923 in New Palestine, Illinois.
Hilda married Charles Paul Fey on October 21, 1942 at St. John Lutheran Church, Chester, Illinois; he preceded in death on January 14, 1986.
Her reaches into Chester and surrounding communities was extensive. She was very active with the Chester Hospital Auxiliary and Junior Legion Auxiliary. She had completed more than 50 years as a Life Member of American Legion Auxiliary, Alva Courier unit 487 where she held many local offices in the unit as well as in the 25th District, being President in 2002.
She was coordinator of the Western Egyptian Retired Senior Volunteer Program for Randolph and Monroe Counties. R.S.V.P. members provided volunteers to schools, hospitals, nursing homes, state and county sites and American Red Cross Blood Drives. She was honored as Chester's Citizen of the Year in 2002.
She was a member of St. John Lutheran Church in Chester, Illinois. She served on many boards and committees thru the years. The Mission Committee and Braille Group were close to her heart.
She was no stranger to the adversities of life. She was a survivor and always a classy lady. A loving and generous mom, mother-in-law, grandmother and friend. Her families lives, as well as the lives of countless others, have been enriched because of Hilda Fey.
A special thank you to the staff of Whispering Pines at Oak Hill for their "TLC" during the last years of her life.
Survivors include a daughter: Jean (John) Kirk of Columbia, Ill.; two grandsons: Eric (Suzanne) Kirk of New Freedom, Penn. and Jason Kirk of Columbia, Ill.; and many nieces, nephews, cousins and friends.
Preceded in death by: parents, husband – Charles, the love of her life and her six siblings and their spouses.
A graveside service for 99-year-old for Hilda A. (nee Bockhorn) Fey formerly of Chester, Illinois, will be held at 11 a.m., Saturday, July 8, 2023 at the St. John Lutheran Cemetery in Chester, Ill. The Rev. Tim Sims will officiate.
Memorials can be made in Hilda's memory to St. John Lutheran Cemetery Fund and can be mailed to the church – St. John Lutheran Church 302 W Holmes Street Chester, Illinois 62233.