CHESTER – Memorial Hospital of Chester, Ill. is proud to announce that Jada Long, daughter of Jeremy and Natalie Long of Evansville, Ill., is the recipient of the 2023 Memorial Hospital Medical Explorer Scholarship awarded by the Memorial Hospital Auxiliary.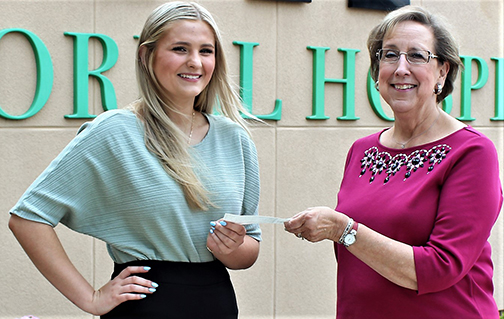 Applicants for this award must be seniors in high school or currently enrolled in college, be members of the Memorial Hospital Medical Explorer Program, complete an application essay, six hours of job shadowing, and complete a reflection essay.
Upon their completion of the scholarship process, the committee reviews their evaluations from job shadowing along with their essays and letters of recommendations.
This year's applicants included, Elizabeth Hall, Jada Long and Emily Sangurima from Sparta High School and Gavin Wilks from Trico High School.
All four applicants have been active members of the Medical Explorers Program throughout the year and enjoyed their time job shadowing and learning about the variety of careers available in healthcare.
Hall will be attending Southwestern Illinois College (SWIC) where she has been accepted into the Radiology program starting this summer.
Sangurima plans to pursue a career in nursing.
Wilks will be attending the University of Illinois at Urbana-Champaign where he will be enrolled in the Kinesiology/Physical Therapy program.
Long, this year's scholarship recipient will be attending Southwestern Illinois College this summer and plans to transfer to Goldfarb's School of Nursing following her time at SWIC.
She has been a member of the Explorers Program at Memorial for four years. Her favorite presentation was from the OR nursing department. She enjoyed having the opportunity to use the laparoscopic tools to mimic a surgical procedure. During her time as an Explorer she took advantage of job shadowing in the OR department as well. She enjoyed watching the nurses interact with the patients, while ensuring their health and safety during surgery was top priority.
"I learned a lot watching the surgeon work on the patients, and watching the anesthesiologist find the best method to sedate the patient and monitor their vitals," said Long. "I have learned so much about the rural aspects of a community hospital. Each healthcare personnel works hand in hand with other healthcare workers to ensure the best results for the public. The rewards that you experience from working in a rural hospital are like no other."
Long is the current president of the Leo's Club at Sparta High School, a lector at St. Boniface Catholic Church, and a volunteer with Hit-N-Miss youth outdoor sportsman group.
Her hobbies include caring for her Highland cows, watching Netflix, and hanging out with friends. She plans to continue to volunteer throughout her community while she attends college and into her professional career.
Overall, Long had this to say about her experience in the Memorial Hospital Medical Explorers Program: "I am so thankful for all of the opportunities that Chester Medical Explorers has given me. I would not be where I am today and in the future, without the insight I had from this amazing program. They allowed me to realize my future path is in nursing. I am so glad I made the decision to join 4 years ago."
Each scholarship applicant this year was very worthy of receiving the monetary award and the committee was impressed by their ambition and commitment to their futures in their selected  healthcare careers.
The committee would like to thank them all for their participation in the scholarship program and wish them success in fulfilling their future goals.