KANSAS CITY – The Mountain-Plains Information Office of the U.S. Bureau of Labor Statistics has released Missouri Job Openings and Labor Turnover – March 2023.
Assistant Commissioner for Regional Operations Michael Hirniak noted these Missouri highlights:
Missouri had 164,000 job openings in March, compared to 195,000 openings in February.
The job openings rate was 5.2 percent in March for Missouri, a 1.0 percent decrease since February (+6.2 percent). Nationally, the job openings rate was 5.8 percent in March and 6.0 percent in February. (See chart 1.)
The ratio of unemployed persons per job opening in Missouri was 0.5 in January, which was less than the national ratio of 0.6.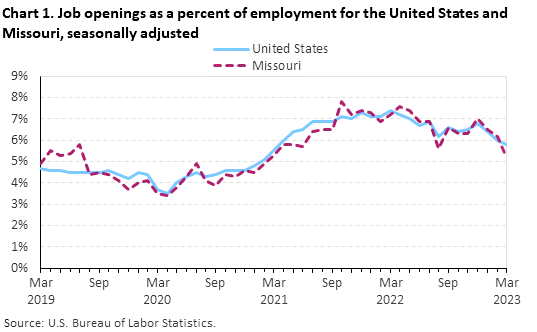 The full national news release is available at https://www.bls.gov/news.release/jltst.nr0.htm.