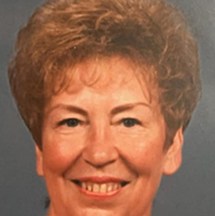 Loretta A. Castens, 85, of Waterloo, Illinois, formerly of Chester, Illinois, passed away at 11:30 am, Thursday, April 20, 2023 at Oak Hill, Waterloo, Illinois.
She was born to the late Charles and Josephine (nee Syloski) Res on July 5, 1937 in Chester, Illinois.
Loretta married Arthur H. Castens on August 25, 1962 at St. John Lutheran Church in Chester, Illinois; he preceded her in death on June 28, 2007.
Loretta served as a nurse in both Murphysboro and Chester after graduating from Jewish Hospital School of Nursing in St. Louis, Missouri.
She was a member of St. John Lutheran Church in Chester, Illinois and loved intruding people to Jesus. She did this in her own kind and gentle way taking time to really get to know others, and often wold lend her listening ear. She had been given a great talent in painting, and used that skill often, even winning second place prize for one of her paintings at the Monroe County Fair.
Survivors: a son: Kyle (Jennifer) Castens Arnold, Mo.; two grandsons:
Daniel Castens and Andrew Castens; a nephew: Patrick (Lingmei) Howell Chapel Hill, N.C..
Preceded in death by: parents, husband and sister: Theresa (James) Howell
Graveside Service 2 p.m., Friday, May 26, 2023 at the Mill Creek Cemetery, 11584 County Farm Road
Chester, Illinois 62233. Officiating: Rev. Tim Sims
Memorials may be made in Loretta's memory to St. John Lutheran Church in Chester, Illinois and are being accepted at Pechacek Funeral Home 839 Lehmen Drive Chester, Illinois 62233