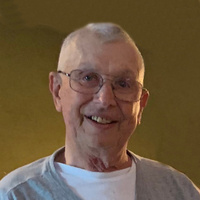 A memorial gathering will be held for 82-year-old George H. Stroh, Jr. of Red Bud, Illinois, who passed away at 7:50 a.m., Saturday, May 13, 2023 at his residence.
He was born February 6, 1941 the son of George H. and Helen (nee Barthel) Stroh Sr. in Belleville, Illinois.
George was a lifetime farmer and factory worker. 
He was a member of Hecker's Sportsman Club. He was an avid fisherman and hunter.
He also enjoyed attending all of his grandchildren's sporting events.
He is survived by two sons: Steve Stroh of Red Bud, Ill. and Kevin Stroh Freeburg of Ill.; a daughter:
Joyce Stroh of New Athens, Ill.; four grandchildren: Brittany (Nick) Lograsso, Ashley (Kyle) Mattingly, Christopher Stroh and Steven (Kayla) Stroh; eight great grandchildren: Ethan Lograsso, Sawyer and Greer Mattingly, Chris Jr and Christa Stroh and Graham and Palmer Stroh; and many nieces, nephews, cousins and friends.
He was also preceded in death by his parents, a sister: Dorothy Stroh; a brother: Arthur Stroh and a special friend: Della Randi
A memorial gathering for 82-year-old George H. Stroh, Jr. of Red Bud, Illinois will be held from 9 to 11 a.m. Saturday, May 20, 2023 at the Pechacek Funeral Home, Red Bud, Illinois.
Memorials may be made to the American Cancer Society.