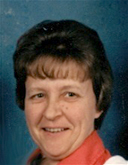 A memorial service will be held Saturday June 3, 2023 for 78-year-old Bonita Sue Rehm of Sainte Genevieve, Mo. who passed away Sunday, May 14, 2023 at Ste. Genevieve Care Center on Mother's Day, her special day.
She was born August 23, 1944 in Neely's Landing, Mo.
She married Robert Rehm June 11, 1963. He preceded her in death.
Shw is survived by two daughters: Jeanne (belated James) Huling of Morton, Ill., and Cathy (Roger) Heil of Sainte Genevieve, Mo.; a son: Kevin Rehm of Sainte Genevieve, Mo.; two brothers: Troy (Jeanne) Bullard and Jackie Bullard; two sisters: Roseann (belated Wayne) Hutson and Patricia Bullard; grandchildren: Samuel Jones, Daniel (Brittany) Huling, Seth (Lauren) Huling, Alexandra (Kristian) Nelson, Catherine Huling; Robert M. Rehm, Meagan (Sheldon) Deimund, Micah Klein, Jenna Heil, Miah Klein, and Jeremy Heil; great-grandchildren: Evelyn, Norah, Sebastian, Tanner, Paisley, Oakley, Annalise, and Alaia
She was preceded in death by her mother: Rachelle Bullard; her father: William Jasper Bullard; husband: Robert E. Rehm; a son: Michael Rehm; a son-in-law: James Huling; brother: Ray (Kathleen) Bullard; sister: Esther (Clarence) Roth; granddaughter: Rachelle L. Rehm.
Visitation will be 1-2 p.m. Saturday, June 3, 2023 at the Basler Funeral Home in Sainte Genevieve, Mo. Saturday, June 3, 2023.  
A memorial service for 78-year-old Bonita Sue Rehm of Sainte Genevieve will be held at Basler Funeral Home on Saturday, June 3, 2023 at 2:00 pm.
There will be a Celebration of Life held at The American Legion Hall in Ste. Genevieve, MO from 3:00 pm until 7:00 pm.
Bonita loved to garden, fish, spend time with her grandchildren, and occasionally wait on patrons. She was a Cancer Survivor and was loved by her family.
Online condolences can be left at www.baslerfuneralhome.com.
To send flowers to the family or plant a tree in memory of Bonita, please visit our floral store.