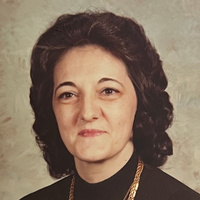 Peggy J. Zang, 81, of Chester, Illinois, passed away at 11:03 pm, Wednesday, May 3, 2023 at her residence.
She was born to the late Evan Henry and Pernie (nee Hieman) Saddler on August 3, 1941 in Pinckneyville, Illinois.
Peggy married Ronald Lee Zang on December 19, 1959 in Chester, Illinois; he preceded her in death on November 11, 2015.
She had worked in housekeeping at Chester Memorial Hospital.
Peggy was of Presbyterian Faith. She enjoyed reading, crocheting and word puzzles. Peggy loved spending time with all of her grandchildren.
Survivors:
   4 Children:
        Deborah (Barry) Hoffman Ellis Grove, IL
        Sherry (Rick) Hoffman Ellis Grove, IL
        Wendy (Roger) Eggemeyer Ellis Grove, IL
        Cindy Zang Chester, IL
   4 Siblings:
        Jody (Marvin) Hepp Pinckneyville, IL
        Sheila (Steve) Williams Utah
        Shauna (Joel) Alberts Utah
        John (Vickie) Toth Utah
   10 Grandchildren:
        Tasha (Daryle), Chad (Melinda), Ricky, Brian (Sarah), Leah (Dave), Dennis, Scott (Jessica), Philip (Reva), Jen (Chris) and Bradley (Kim)
   19 Great Grandchildren:
        Sara, Kaden, Aidan, Tammy, Chad, Jaxon, Brayden, Kayleigh, Khloe, Hayven, Caitlin, Natalie, Vincent, Dakota, Maleigha, Aaliyah, Landon, Kylie and Peter
   1 Great-Great Grandchild:
        Julius
   Many Nieces, Nephews, Cousins and Friends
Preceded in Death by: Parents, Husband, 2 Brothers – Larry and Roger Saddler and 2 Sisters – Carol Rice and Rose Marcus
Funeral Service:
   11:00 am, Tuesday, May 9, 2023
   Pechacek Funeral Homes, Chester, Illinois
Officiating:
   Pastor Dan Ahlenius
Interment:
   Ellis Grove City Cemetery
   Ellis Grove, Illinois
Visitation:
   Tuesday – 9:00 am – 11:00 am
   Pechacek Funeral Homes, Chester, Illinois
Memorials:
   Chester Memorial Hospital Infusion Center