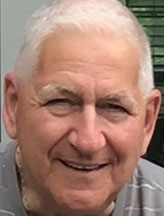 Walter H. Emerson Jr., 81, a resident of Easton for the past 32 years passed away on April 25, 2023. He was the husband of Kathleen (Meehan) Emerson.
Born in Brockton, a son of the late Walter H. and Evelyn (Dednah) Emerson he was raised in Easton and West Bridgewater and was a graduate of West Bridgewater High School Class of 1960. He attended Northeastern University.
A veteran of the Vietnam War he served in the US Army and was honorably discharged.
Walter was employed as a computer programmer and data base administrator and worked for Cumberland Farms, General Cinema and State Street Bank and Trust.
An active member and volunteer at the Cochesett United Methodist Church in West Bridgewater he served as treasurer. He enjoyed golfing and biking riding and was a member of the Easton Republican Town Committee.
A standout baseball player during high school, he was scouted by both the Detroit Tigers and Kansas City Royals. He enjoyed time spent with his children and grandchildren.
In addition to his wife Kathleen he is survived by four children, Julie Glass and her husband Ryan of Murfreesboro, TN., Susan Berghoff of Cape Girardeau, MO., Walter H. Emerson III and his life partner Wendee Lincoln of Brockton, and Jason G. Emerson of Ste. Genevieve, MO.; his siblings, Audrey Daley of Raynham, Donna Brennan of Brockton and Ellen Walker of Abington; six grandchildren, Zane Glass, Emily Glass, Alison Berghoff, Meghan Berghoff, Lincoln Emerson and Cheyenne Emerson; and nieces and nephews.
Relatives and friends are respectfully invited to attend visiting hours on Thursday evening from 4-7 p.m. in Kane Funeral Home & Cremation Services 605 Washington Street (Rte.138) Easton.
The funeral will be held on Friday at 10:00 a.m. in the Cochesett United Methodist Church, 517 West Center Street, West Bridgewater, MA. 02379. Interment will follow in Furnace Village Cemetery, Easton.
In lieu of flowers donations in Walter's memory may be sent to Cochesett United Methodist Church, 517 West Center Street, West Bridgewater, MA. 02379 or to the Wounded Warrior Project 370 7th Ave suite 1802, New York, NY 10001. For directions or condolences visit www.kanefuneralhome.com