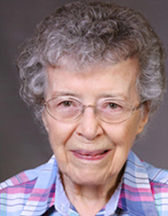 Sr. Irene (Mary Luke) Mcgrath, ASC, 95, of the Adorers of the Blood of Christ, passed away at 7:53 pm, Wednesday, April 19, 2023 at the Benedictine Living Community at the Shrine of Our Lady of the Snows, Belleville, Illinois.
Sr. Irene was one of seven children born to the late Thomas and Clara (nee Begnel) McGrathon January 11, 1928 in Woodson, Illinois. Her home parish was St. Bartholomew in Murrayville, Illinois.
Sr. Helen made her first vows on July 1, 1944, and final vows on July 1, 1949. She had been professed for 78 years.
She received her bachelor's degree in Religion, with minors in Education and Philosophy, from St. Louis University, St. Louis, Missouri, in 1955. She earned her master's in Library Science and Theology from the College of St. Catherine in St. Paul, Minnesota, in 1965. She held certificates in Limited elementary Supervision and Secondary Teaching in the State of Illinois. She became certified in Spiritual Direction Through the Jesuit School of Theology in Chicago, Illinois in 1979.
Sr. Irene was named the Provincial Superior of the former Ruma Province in 1972. She was known as a woman of prayer, but also in tough with the reality of our times. In the early seventies, she was keenly aware that the ""experience of ourselves and of our world tells us all too clearly that there is a crying need of reconciliation" within each person, between persons, and between the person and God.
Her enjoyments included reading, walking, music, the beauty of nature, and quiet time. She was always open to a thoughtful conversation about spiritual journeys and newly-discovered insights. She gave any visitor a warm welcome, letting them know she was grateful for a time to chat. Small kindnesses touched her deeply. Sr. Irene looked for the best in others and expressed her joy when one of the sisters or the staff at Ruma had some success.
She loved her family and had a strong relationship with each of them, delighting in the time they could visit or even talk on the phone. She maintained close relationships with nieces and nephews.
Sr. Irene was preceded in death by her parents, 2 Sisters – Marie (Harold) Drainer and Helen (Coy) Graham, and 4 Brothers – Leonard (Teresa) McGrath, Vincent (Leona) McGrath, Thomas McGrath, and Leo McGrath.
She is survived by her Sister-in-law – Leeanne McGrath, Nieces, Nephews, Great Nieces and Nephews, and members of the ASC Community.
Visitation: Tuesday – 9:45 am – 11:15 amBenedictine Living Community Chapel at the Shrine of Our Lady of the Snows
Funeral Mass: 11:15 am, Tuesday, April 25, 2023, Benedictine Living Community Chapel at the Shrine of Our Lady of the Snows, 726 Community Drive, Belleville, Illinois
Interment: Convent Cemetery Ruma, Illinois
Donation in memory of Sr. Irene McGrath may be sent to the ASC Retirement Fund, 4233 Sulphur Avenue, St. Louis, MO 63109 or online at www.adorers.org "Support our Ministries"