STE. GENEVIEVE – The Ste. Genevieve High School Junior Varsity and Varsity Scholar Bowl teams have closed out a fantastic regular season and prepare for upcoming tournaments! A special congratulations to the JV Scholar Bowl team for an undefeated regular season!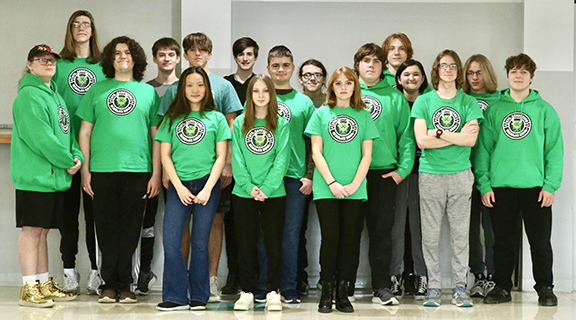 Front Row, Left to Right: Penny Yang, Brooklyn Arnold, Emma Mittermeyer; Middle Row, Left to Right: Damien Wheeler, Isaiah Hill, Charlie Corbett, Charles McGuire, Levi Richardson, Jeremiah Kunz, Bennett Walls; Back Row, Left to Right: Cole Nickelson, Matt Martin, Conner Hardin, Mason Ruch, Noah Jordan, Rae Winch, Gavin Zerwig; Not Pictured: Brenden Sexton, Hannah Woodruff, Char Drost IV.

The JV Scholar Bowl played their final game against Arcadia Valley last week and defeated them with a score of 250 to 60. This victory closed out an epic 18 and 0 undefeated season!
SGHS Junior Varsity Scholar Bowl includes Mason Ruch, Raegan Winch, Bennett Walls, Brooklyn Arnold, Noah Jordan, Conner Hardin, Brenden Sexton, Charles McGuire, Levi Richardson, and Gavin Zerwig.

Be on the lookout for these phenomenal players when they join the Varsity Scholar Bowl team as they compete in the MAAA Conference Tournament on Saturday, March 25, and a District Tournament Saturday, April 15. SGHS Scholar Bowl is coached by Jason Elders, SGHS History Teacher.