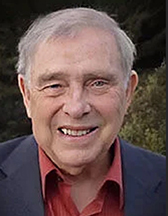 Ronald D. Porter, 84, of Grand Island, passed away at his home surrounded by his family on Sunday, Nov. 13, 2022, after battling a long illness.
To honor his wishes, a celebration of life will take place at 11 a.m. on Saturday, March 11 at All Faiths Funeral Home. Daniel Naranjo will officiate.
Ron and his twin brother Raymond were born on July 30, 1938, in Ponca City, Okla., where they were adopted by Leo and Edna Porter. Ron spent his childhood in Oklahoma and later graduated from Oklahoma State University with a bachelor's degree in Geology. Go Cowboys!
On Nov. 11, 1961, Ron married his soulmate Kathleen Harris, in the chapel at Oklahoma State University. To this union, they were blessed with three children, Kevin, Kelly, and Kristi.
After graduating from OSU, Ron and Kathleen moved to New Mexico where he worked in the oil fields. They then moved to St. Louis where he was employed 33 years as a Cartographer at the Defense Mapping Agency in St. Louis, Missouri. During his tenure at DMAC, he worked on projects such as the Apollo and Voyager 1 & 2 missions.
In 2000, following his retirement, they started a new journey in their lives and moved to Grand Island. Ron and Kathleen were blessed to have wonderful neighbors which developed into close friendships.
After battling cancer, Ron decided to give back by volunteering at St. Francis and the Cancer Center, where his mission was to make a positive impact on patients going through serious illnesses.
Ronald was a lifelong fan of Oklahoma State Football and loved watching the Huskers, which made it difficult when Nebraska and Oklahoma State played at the same time. He also enjoyed sitting on his deck and listening to music with his friends and family. Most of all, he loved spending time with his children, grandchildren, great-grandchildren and of course his dogs.
Those left to cherish his memory include his children, Kevin Porter of Festus, Mo., Kelly (Kelly) Rafferty of Grand Island, and Kristi (Richard) Clinton of Ste. Genevieve, Mo.; eight grandchildren, Ron, Todd, Kayla, Brandy, Derek, Molly, Shane, Heather; 18 great-grandchildren and his Godsent Angel, Amanda Brunken.
He was preceded in death by his wife, Kathleen; his parents, Leo and Edna Porter (Rork); twin brother, Raymond Porter; and brothers Harold, Bob and Donald Dawson; and sisters, Beverly Dale (Dawson), Shirley Dawson and infant sister, Betty Jean Dawson