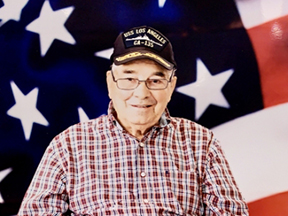 Gerard "Jerry" Huck, 89 years old of Bloomsdale, Mo., passed away Saturday, February 18, 2023
at the Missouri Veterans Home in Cape Girardeau, Mo.
He was born January 7, 1934 in Zell, Mo.
He married Nancy (Bivins) Huck on August 18, 1966.
Survived by: three sons, Dale (Kim) Diesel of Dupo, IL, Donald (Geri) Diesel of Bloomsdale, MO, and Deron (Rachel) Huck of Olathe, KS; a brother: Robert (Rita) Huck of Indianapolis, IN; a sister: Sylviann Huck of High Ridge, MO; and grandchildren: Jamie, Abby and Kelly Diesel; Emily (Blake) Sullivan, Erich and Natalie Diesel; Hunter and Henry Huck; great grandchildren: and Jaylyn Brister; Kennedy and Dottie Sullivan.
Preceded in death by his wife: Nancy L. Huck; his father: Edwin Huck; his mother: Dora (Grass) Huck; and his brother: Charles Huck.
Visitation will be 9:30-11 a.m. Friday, March 17 at the St. Joseph Church in Zell, MO on Friday, March 17.
A funeral for 89-year-old Gerard "Jerry" Huck, of Bloomsdale, Mo., will be held at 11 a.m. Friday, March 17, 2023 at St. Joseph Church in Zell. The Rev. Henry Purcell will officiate.
Burial will be at Jefferson Barracks National Cemetery in Saint Louis, Mo. at a future date with full military honors
Memorials may be made to the Missouri Veterans Home, Cape Girardeau, MO.
He was a member of VFW Post 2210, American Legion, Disabled American Veterans, USS Los Angeles Association, and Navy Cruisers Association.
Jerry enjoyed hunting, fishing and golfing.  He loved to listen to country music and sing along.  Jerry was a very proud Korean War Veteran who loved to reminisce about his time in the United States Navy.
Most of all Jerry was a very devoted husband, father and grandfather.
Online condolences can be left at www.baslerfuneralhome.com.