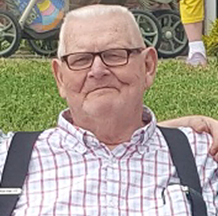 Milton Lewis Jung, 83, of Altenburg, Missouri passed away Thursday, February 16, 2023.
He was born April 13, 1939 in Evansville, IL to Bernard H. and Luella (Runge) Jung.
Milton was a member of St. Joseph Catholic Church, the Illinois Teachers Association, Kiwanis Club, Missouri Cattleman's Association.
He was an agriculture teacher, football coach, wrestling coach and mentor. He taught at Shawnee High School in Wolf Lake, IL from 1962-1977 and then at Anna Jonesboro High School in Illinois from 1977-1992.
Milton coached the Anna Jonesboro football team to a State Championship in 1984 and runner up in 1983. He enjoyed reading and had a passion for football, his cows and doing things right the first time.
His greatest joy in life was his grandchildren Wade, Duane, Clayton, Aubrey and Keenan.
Survivors include three sons, Gregory (Angela) Jung, Kevin Jung, Brent (Valerie) Jung; sister, Joyce Juelfs; five grandchildren, Wade (Breanne) Jung, Duane (Ashley) Jung, Clayton Jung, Aubrey Jung, Keenan Jung; Great-Grandchild, Emmett Jung and many nieces, nephews and cousins.
He was preceded in death by his parents; three brothers, Ben Jung, Gary Jung, Mason Jung.
Visitation will be from 4:00 pm to 8:00 pm on Tuesday, February 21, 2023 at Ford & Young East Perry Chapel in Altenburg.
Graveside Service will be at 1:00 pm Wednesday, February 22, 2023 at St. Michael's Cemetery in Apple Creek with Fr. Patrick Christopher officiating.
Burial will be at St. Michael's Cemetery in Apple Creek.
Memorial contributions may be given to Catholic Charities USA.
Online condolences may be made at www.fordandyoungfuneralhome.com.
Ford & Young East Perry Chapel is in charge of arrangements.