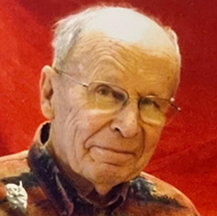 James "Bill" W. Davis, Jr., 85, of Ironton, Missouri, formerly of Ellis Grove, Illinois, passed away Wednesday, February 15, 2023 at The Baptist Home – Arcadia Valley, Ironton, Missouri.
He was born to the late James Sr. and Helen (nee Cornette) Davis on August 5, 1937 in Evansville, Indiana. He spent much of his childhood years working on his family farm in Bremen, KY.
Bill married Charlotte Pauline Gibson on June 20, 1959 in Sacramento, KY; she preceded him in death on July 29, 1998. He married JoAnn G. Eaton on June 19, 1969 in Ellis Grove, Illinois; she preceded him in death on December 24, 2021. The time following JoAnn's death were some of his most lonely and he never recovered from this loss.
Bill worked for various coal mines across the country during his early years before settling in Randolph County, IL. There he continued to work for the coal company doing various jobs including welding, heavy machinery operator, and repairman. He enjoyed sharing his skills with his farm neighbors as well, often welding or doing other work on neighbor's farm machinery well into the evening. Bill was proud of the improvements he made to the house and farm, and especially enjoyed his small herd of cattle. Until selling the farm in 2017, checking on the cattle and working in his large garden were some of his favorite activities.
Bill was a member of First Baptist Church in Ellis Grove before moving his membership to First Baptist Church in Ironton, Missouri. He was also a member of the United Mine Workers of America.
Bill enjoyed square dancing for 30 years.
Survivors:
2 Sons:
John Davis (Bob Kovacs) Salinas, CA
Chester Davis Davenport, IA
3 Step Children:
Paul (Kathy) Rogers Mocksville, NC
Suzanne Mollet Prairie du Rocher, IL
Leah Ann (Cletus) Donjon Evansville, IL
1 Brother:
Joe Davis (Ellen) Virginia
7 Step Grandchildren
10 Step Great Grandchildren
Preceded in Death by: Parents and Wife
Funeral Service:
11:00 am, Monday, February 20, 2023
Pechacek Funeral Homes, Chester, Illinois
Officiating:
Rev. Mary M. Wrye
Visitation:
Monday – 10:00 am – 11:00 am
Pechacek Funeral Homes, Chester, Illinois
Memorials:
St. Jude Children's Research Hospital