STE. GENEVIEVE — Peter Roth has been named the Valle Elks Student of the Month for January.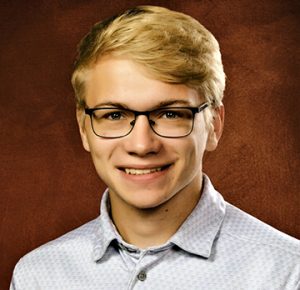 Peter is the son of Dave and Sheila Roth of Ste. Genevieve County.
Peter is a member of the National Honor Society, and he has achieved high honor roll, top ten of his class, and scholar-athlete awards each year of high school.
He was the recipient of the following scholarships: Western Catholic Union Essay Scholarship for three years, second place scholarship for the Annual Catholic Appeal Essay Contest, and the Beyond Sunday Fellows Essay Scholarship.
Peter was selected as the recipient of the 2023 Archbishop May Service Award. His volunteer efforts include four years of participation in the Operation Overhaul week-long service trip, providing home rehabilitation for the needy. He also volunteered at Vincentian Marian Youth service days, organist for school Masses, Altar server for Ordinary and Extraordinary Forms of the Mass, Valle Catholic Auction, and school service days.
His leadership roles include Lead Altar Server and Master of Ceremonies at Mass, High School Mass Music Planner and Organist, Choir Director, and Cross Country Team Captain.
In the Valle Band, he played the trumpet and euphonium in pep band, marching band, and concert band. He was selected to play two years in the Mineral Area High School Activities Association Honor Band, and he played in the ensemble for the Missouri Small School Band Festival receiving a rating of "Outstanding." He is a member of the Valle Volunteer Pep Band at football and basketball games and at other school events.
Peter has been a Varsity letter winner on the Valle Cross Country team for four years and the Track and Field team for two years (due to cancellation of the 2020 season). He will run Track in the Spring of 2023.
In Cross Country, he received the All-District Award (2019, 2020, 2021, 2022), and he was District Champion in 2021. He was the first Valle boy to compete at the State meet all four years. He was the lead runner of the team that achieved 4th place at the State meet in 2021, and he received individual All-State medals in 2021 and 2022. He received the All-Conference Award in 2021 and 2022 and the Most Valuable Player award all four years.
In Track, Peter was a member of the 3rd place team State meet in 2021. He was District Champion in the 1600m, 3200m, and 4x800m relay (2021), and in the 3200m and the 4x800m relay (2022). He received All-State medals in the 3200m (2021) and 4x800m relay (2021, 2022). He was recognized as the Hardest Working Track Athlete in 2021 and 2022.
His other extracurricular activities include Math Team, March for Life in Washington DC, Steubenville Summer Youth Conferences, and participation in Vincentian Marian Youth Group.
In his free time, Peter enjoys working on cars, attending car shows, spending time with friends, running, and playing the trumpet, euphonium, organ, and piano.
Peter is currently employed as Detailer and Paint Corrector at Dwayne Doza Auto Body & Auto Sales, LLC. He is also employed as Organist and Choir Director for Sacred Heart Catholic Church in Ozora. He has played the euphonium and trumpet in various community band performances including the summer Municipal Band and the German Band.
Peter plans to attend Benedictine College in Atchison, Kansas, to pursue a degree in Mechanical Engineering.