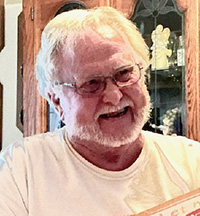 Donald "Gene Luckett" Eugene Wood, 83 years old Of Bloomsdale, MO died Tuesday, June 7, 2022
at Riverview At The Park in Sainte Genevieve, MO
He was born July 23, 1938 in Missouri.
Married to Patricia  (Miller) Wood on January 10, 1972
Survived By:
Two Sons, Donald (Mary) Lee of De Soto, MO, Darryl (Debora) Lee of Festus, MO; Daughter, Mary "Patty" Mansouri of Saint Louis, MO; Brother, Floyd "Leon" Luckett; Sister, Jackie (Nick) Tanase; Five Grandsons, John P. (Peggy) Lee, Ryan C. (Crystal) Lee, Ardie (Natalie) Mansouri, Anhoushir (Katie) Mansouri, and Kavahn (Megan) Mansouri; Two Granddaughters, Marissa P. Lee and Jenny (Richard) Uding; Three Great-Granddaughters, Olivia C. Lee, Evelyn G. Lee and Anne K. Lee; and Great-Grandson, Jack P. Lee; Sister-in-law, Jane Luckett
Preceded in Death By:
Father, Floyd Luckett and Mother, Ella "Adeline" (Massey) Luckett; Wife, Patricia  Wood; Two Sons, David J. Lee, Donald "Sonny" Wood, III; Brother, Butch Luckett; Sister, Joyce (Dave) Gary.
There will be a Celebration of Life Service held at a later date.
Memorials can be made to the Alzheimer's Association.
He was a member of Festus Elks Lodge 1721.
Online condolences can be left at www.baslerfuneralhome.com.
To send flowers to the family or plant a tree in memory of Donald "Gene Luckett", please visit our floral store.