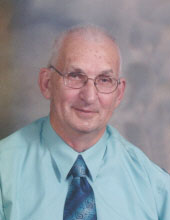 Robert H. Mueller, 86 years old of Sainte Genevieve, Mo. passed away peacefully Tuesday, May 31, 2022 at home surrounded by family
He was born June 8, 1935 in Ste. Genevieve, Mo.
Married to Dorothy "Dot" (Roth) Mueller on August 4, 1956 in Sainte Genevieve, Mo.
Survived By: Wife, Dorothy "Dot" Mueller; Two Daughters, Sandy Vaeth and Judy (Matt) Rhinehart; Two Sons, Gary (Diane) Mueller and Craig (Celeste) Mueller; All reside in Sainte Genevieve, Mo.
Sister, Rose Marie "Rosie" (Oscar) Pfaff of Arnold, Mo.; Sister-in-law, Stella Mueller of Sainte Genevieve, Mo.
Also survived by 10 grandchildren: Kyla Vaeth, Julie (Vaeth) Pecaut and Kurt Vaeth; Chad Mueller, Ryan Mueller, and Adrea Mueller; Hannah Rhinehart-Trollinger; Kendra (Rhinehart) Adams; Brandon Mueller and Clayton Mueller; 15 Great-Grandchildren
Preceded in Death By: Father, Joseph Mueller; Mother, Rose (Flieg)Mueller; Son-in-law, Austin Vaeth, Jr.; Two Brothers, Raymond Mueller, Richard Mueller; Sister-in-law, Rita Mueller;
Visitation will be at Basler Funeral Home in Sainte Genevieve, Mo. Thursday, June 2, 2022 from 4:00 pm till 8:00 pm and Friday, June 3, 2022 from 8:00 am till 10:00 am
Service will be at Church of Ste. Genevieve on Friday, June 3, 2022 at 10:30 am. The Rev. Mitchell Baer will officiate.
Burial will be at a later date
Memorials can be made to Serenity Hospice and St. Jude's Children's Hospital
Bob was a member of Knights of Columbus 4th Degree and Elks Lodge of Sainte Genevieve. He worked at River Cement as a heavy equipment mechanic retiring in 1997 after 32 years of dedicated service.
Bob was a loving Husband, Dad and Grandpa who took great pride in his family. He enjoyed fishing, hunting, camping, and spending time with his family.
Online condolences can be left at www.baslerfuneralhome.com.