STE. GENEVIEVE – A proposal to open a surface mine to remove silica sand from a 249-acre site along Highway 32 in Ste. Genevieve is giving residents of the area a great deal of concern. (See letter to the editor concerning health effects of silica sand.)
The proposed location is across Highway 32 from Miller Switch and Hawn State Park Road.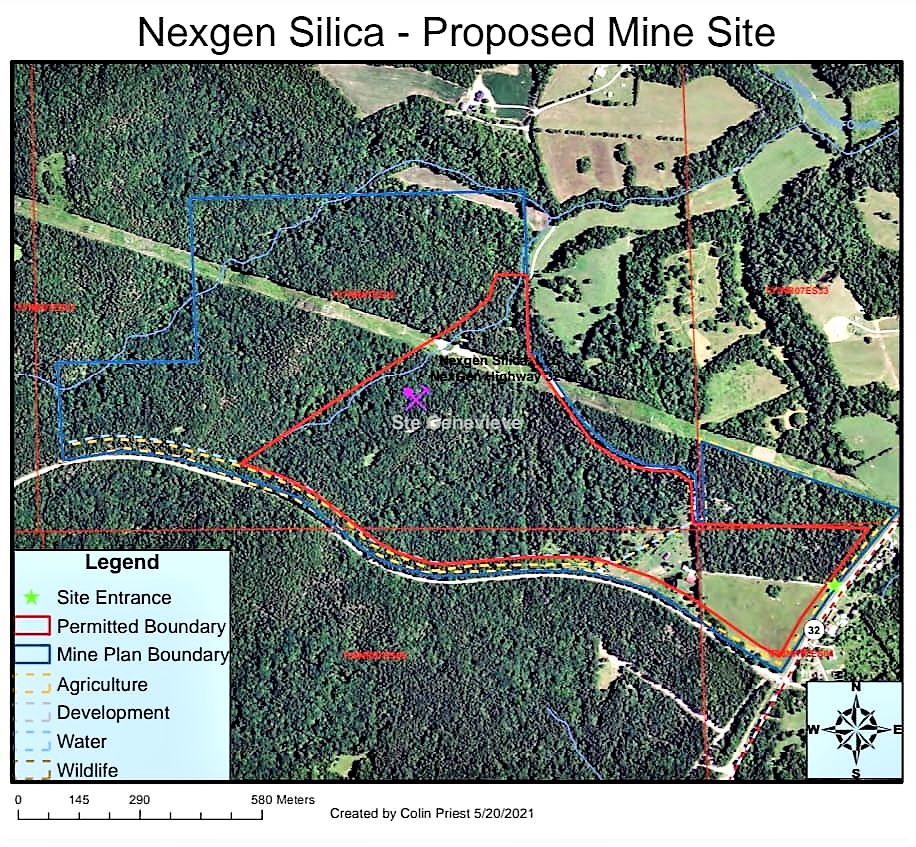 The residents were notified in a certified letter date March 22.
The letter stated:
"You are being notified in accordance with The Land Reclamation Act at 444.772.10 RSMo., that the following surface mine appplication has been submitted to the Department of Natural Resources. Please note that the applicant can only mine on land where a landowner has entered into an agreement for the mineral rights and those acres included in the long term mine plan.
NexGen Silica, LLC PO Box 391, Ste. Genevieve, MO 63670, has applied for a new permit from the Deparment of Natural Resources, Land Reclamation Program, to mine Sandstone on 249 acres of land located in Ste. Genevieve County, Section 5-T36N-R7E, Section 4-T36N-R7E, Section 33-T37N-R7E.
These operations will be conducted during the approximate dates of 5/16/2022 to 12/31/2072.
A requests for the map showing the long term mine plan area can be sent to the Land Reclamation Program at: mining@dnr.mo.gov.
Written comments or a request for an information public meeting may be made by any person with a direct personal interest in one or more of the factors that the Staff Director may consider in issuing a permit, as required by The Land Reclamation Act, sections 444.760 to 444.790 RSMo.
Mail written comments, or a request for an informal public meeting to: Director, Land Reclamation Program, Department of Natural Resources, PO Box 176, Jefferson City, MO 65102-0176. All comments and requests for a public meeting must be submitted in writing to the director's office no later than fifteen days following the final public notice publication date. For more information abuot the process, please contact the Land Reclamation Program by phone at 573-751-4041 or by emails at mining@dnr.mo.gov
A petition opposing the mine began circulating last night
The proposal is already attracting comments on social media: