STE. GENEVIEVE–The Missouri Dinosaur, Parrosaurus missouriensis, is on the move and now has found a home at the new Sainte Genevieve Museum Learning Center (SGMLC), which will become the Official Missouri Dinosaur Visitor Site. The museum's grand opening will begin with a ribbon cutting and ceremony on December 11 at 11:00 a.m. to feature this unique dinosaur discovery.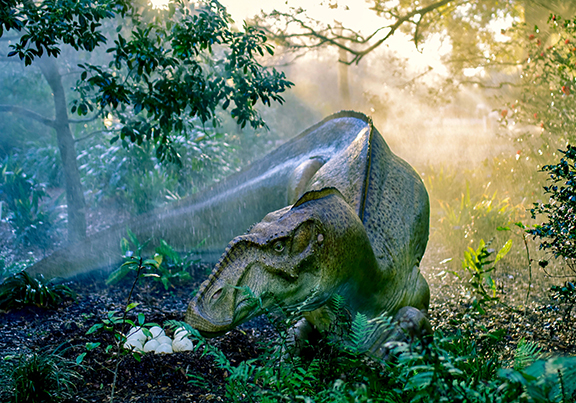 The discovery of Parrosaurus missouriensis, is one of Missouri's most important discoveries. The visitors who attend the grand opening will see real bones of the Missouri Dinosaur and watch scientific studies being conducted in the lab. Parrosaurus missouriensis is Missouri's Official State Dinosaur. Participants will also be treated to some cool prehistoric giveaways.
"The Missouri Dinosaur story has taken a number of twists and turns since its bones were first discovered in 1942," said Guy Darrough, museum curator and director of the dinosaur site, who has worked with paleontologists regarding these discoveries for several years. "The mysteries that are finally coming to light are very exciting."
The SGMLC has been open to the public for just over a year, and at the Grand Opening, Darrough will tell the story about the Missouri Dinosaur and how it was found by chance by geologist, Daniel R. Stewart, and paleontologist Dr. Peter Makovicky will tell how its discovery sheds light on prehistoric life in Missouri. Robert Wolk, president of the SGMLC, Ste. Genevieve Mayor Paul Hassler, and other dignitaries will give short presentations.
The exhibits and collections on loan to the SGMLC are from the Darrough's collection and Lost World Studios LLC. These exhibits are sure to delight the visitors as they browse through the museum's galleries of life-size dinosaurs and fossils, ancient cultures, natural history and historical artifacts. "The museum is really a journey through time," said Darrough. 
The museum also proudly presents the Ste. Genevieve Gallery with local history featuring the Ste Genevieve river transfer boat, artworks from Lewis Pruneau, the Weingarten POW Camp, religious items, antique guns, a bank safe that the Jesse James gang robbed and much more.  "Here visitors will be fascinated by unique artifacts from Ste. Genevieve's past," said Robert Wolk, SGMLC President. "The treasures of Ste. Genevieve will leave a lasting impression."
The Sainte Genevieve Museum Learning Center is open Friday, Saturday and Sunday from 11:00 a.m. to 4:00 p.m. and Monday through Thursday by appointment to accommodate larger group visits.
Learn more about all the SGMLC has to offer at stegenmuseum.org and facebook.com/stegenmuseum.org or call 573-883-DINO.
About the Sainte Genevieve Museum Learning Center (501c3)

The Friends of the Sainte Genevieve Museum was established in 1935 with a mission to inspire the discovery of the past. The museum relocated to 360 Market Street, just a block away from its original location, continuing its legacy of preserving the past for future generations.