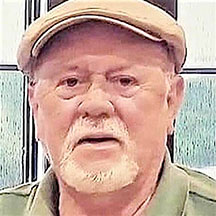 A private service was held for 72-year-old William Louis "Paw-Paw" Burkard of Bloomsdale who passed away Nov. 8, 2021, at Mercy Hospital Jefferson in Crystal City.
He was born Jan. 24, 1949, in Ste. Genevieve, the son of Connie (Fischer) and Walter "Wally" Louis Burkard, who both preceded him in death.
He married Carol (Herbert) Burkard in 1968. She survives.
He is also survived by three sons: William Douglas (Shannon) Burkard of Festus, Robert Aaron (Lori) Burkard of Springfield and Anthony Scott (Katie) Burkard of Festus; a sister: Betty Rendelmen of Festus; and eight grandchildren: Chandler, Gracie, Chase, Gretchen, Kelsie, Gabbi, Kinsley and Kaelie Burkard.
He was preceded in death by a brother: Tony Burkard.
William was known as "Paw Paw Bill," and his wife owned and managed Burkard Daycare for 34 years.
He was a manager for the American Legion and a licensed barber at Albano's Barber Shop.
He was a member and a deacon of Grace Presbyterian Church.
He enjoyed painting, gardening, cooking and catering, including decorating cakes.
Services were private.
Arrangements were under the direction of Vinyard Funeral Homes, Festus.