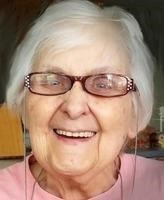 Maryrose M. Elliott, nee Schaeffer, 83, of Belleville, Ill., born August 20, 1938, in Belleville passed away Monday, November 8, 2021, at Memorial Hospital, Belleville.
Mrs. Elliott was a nursing assistant at Memorial Hospital, Belleville, before her retirement.
Surviving are two daughters: Mary Ellen (Joseph) Klug of Florissant, Mo., and Jana Horn of St. Libory, Ill.; two sons: Mark (Stacy) Elliott of St. Elmo, Ill., and Harold Jr. (Cathy) Elliott of Ste. Genevieve Mo.; four grandchildren: Kimberly (Brian) Donovan, Zachary (Amanda) Horn, Joseph Horn, and Hannah (Joseph) Dasenbrock; and seven great-grandchildren: Adalynn Elliott, Shaelynn Rose Donovan, Maelie Grace Donovan, Raegan Marie Donovan, Scarlet Elliott Horn, Blais Sweazey, and Bowen Sweazey.
She was preceded in death by her husband of nearly 60 years: Harold E. Elliott Sr., whom she married on August 18, 1956, and who passed away August 13, 2016; her parents: Walter L. and Rose M., nee Heil, Schaeffer; and a son-in-law: Ted Horn.
Memorials may be made to the Belleville Area Humane Society.
Condolences may be expressed to the family online at www.rennerfh.com.