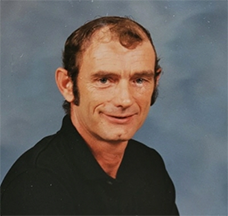 Visitation will be held Sunday, for 72-year-old Larry Joe Vaughn of Silva, Mo. formerly of Ste. Genevieve who passed away Friday, November 12, 2021 at St. Francis Medical Center in Cape Girardeau, Mo.

He was born January 16, 1949 in Ste. Genevieve, Mo., the son of Eugene W. Vaughn and Rosemary (Wilkerson) A. Vaughn who both preceded him in death.

He married Belinda (Owens) Vaughn on May 18, 1991. She survives in Silva.

He is also survived by a son: Darrell (Kathy) E. Vaughn of Weingarten, Mo.; four daughters: Christina (Donald) M. Roth Jr. of Longtown, Mo., Lisa (Mark) McGregor of Silva, Mo., Barbie Bowerman of Sainte Genevieve, Mo., and Angie Flieg of Sainte Genevieve, Mo.; three sisters: Carolyn Hellon of Belle Plaine, Kansas, Ann (Bill) Snider of Farmington, Mo., and Joyce (Bill) Rayoum of Sainte Genevieve, Mo.; three brothers: Terry Vaughn of Farmington, Mo., Eugene W. Vaughn Jr. of Farmington, Mo., and George Vaughn of Sainte Genevieve, Mo.; a sister-in-law: Wanda Vaughn of Sainte Genevieve, Mo.; grandchildren: Vivian Vaughn, Katie and Connor Roth, Anna and Travis Martin, Destiny Boyer, Emma Flieg, Taylor and Jake Snider; and several great grandchildren.

He was also preceded in death by: two brothers: Jerry Vaughn and John Vaughn; and a grandson Sgt. Michael Beckerman.
Larry was a truck driver for Don Heil Oil Company for 33 years.
He enjoyed wrenching around on anything he could get his hands on.
Larry also enjoyed taking care of his cattle, tractors and eating ice cream with his dogs but most of all Larry loved to brag on his grandchildren.

Visitation will be at Basler Funeral Home in Sainte Genevieve, Mo. Sunday, November 14, 2021 from 2-6 p.m.

Memorials may be made to the Sgt. Michael Beckerman Memorial Scholarship.

Online condolences can be left at www.baslerfuneralhome.com
To send flowers to the family or plant a tree in memory of Larry Joe Vaughn please visit our Tribute Store.